With just a few days to go, Riot Games unveiled a great first look at Episode 6 alongside its name, Revelation.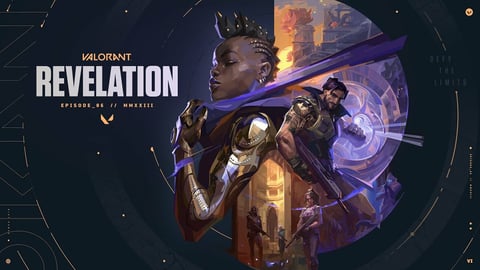 Valorant Episode 6 is just mere days away and Riot Games has finally decided to reveal its name: Revelation. That's right, the devs revealed an incredible trailer featuring the likes of Sage, Omen, Jett, Killjoy, Fade, Astra, Harbor, and more, teasing fans with some nice artwork which you can see above.
We've been covering Episode 6 Act 1 extensively, but if you've missed it, allow us to recap with everything we know so far.
Valorant Episode 6 Start Date
Much to no one's surprise, Riot Games confirmed that Episode 5 Act 3's last day to grind the battle pass was January 9. Naturally, Episode 6 will start on Tuesday, January 10, on par with every single update the game has received.
Valorant Episode 6 Battle Pass
The new Episode 6 Act 1 Battle Pass features three skinlines in total, featuring cosmetics for almost every weapon in the game. Furthermore, the assortment of other goodies such as Player Cards, Gun Buddies, and more, looks spectacular.
You can see all of the stuff the Battle Pass has to offer in our dedicated article right here.
One more thing we can mention is that with Xbox Game Pass implementation, you'll get a decent XP boost to grind it! So keep that in mind.
Valorant Episode 6 Map Rotation
Coming with Episode 6 is a massive shakeup to the map pool for both unrated and ranked playlists. First, Bind and Breeze are making way for Split, and allegedly, a brand-new map set to debut.
It's the first time we've received such big changes to the map pool since the release of Pearl in June when it replaced fan-favorite Split. The reasoning behind the decision to rotate maps is that Riot doesn't want to clog the pool, allowing players at all skill levels to learn each one of them relatively quickly.
Valorant Episode 6 New Map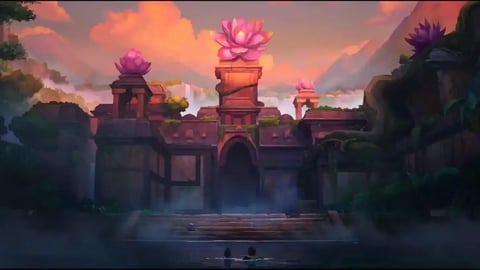 It's all but confirmed that Episode 6 will see the debut of a new map. According to ValorLeaks, it'll be called Lotus and feature a three-site map structure. You can read a more detailed breakdown right here.

It will most likely be a part of Act 1's map rotation, although we doubt it'll be immediately available in competitive, as players need to get acquainted with its structure and callouts.
Valorant Episode 6 Launch Bundle
Once again, thanks to our friend ValorLeaks we know a bundle that will pair alongside the start of Episode 6 Act 1 is set to debut. Riot made the official reveal a day after, giving it the title Araxys, featuring skins for the Vandal, Shorty, Operator, Bulldog, and a Melee.
Check official high-resolution images, the bundle's cost, and more, right here.
Upcoming Episode 6 Launch Bundle | #VALORANT

> Operator
> Bulldog
> Vandal
> Shorty
> Melee

Variants: Base, Red, White, and 1 more. pic.twitter.com/nrgU9blQfn

— Mike | Valorant Leaks & News (@ValorLeaks) January 5, 2023
For more content: