More than six months since Pearl was released, it seems Riot Games is finally unveiling a brand-new map. This is everything we know about it.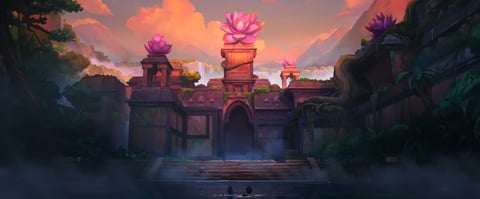 Update: If you want a deep in-game look at the map sites, minimap, callouts, layout, and more, check out our detailed breakdown right here!

Original story:
Valorant has a lot of exciting stuff coming for gamers in 2023, including the start of Episode 6, new game modes, and obviously, the addition of more Agents and maps.
Talking about the latter, it's all but given a new map will debut with Episode 6. For one, the fact that two of them are leaving the pool (Bind and Breeze) and only Split is returning leaves room for rumors, which have all but been confirmed by Riot Games' recent teasers on social media.
Let's tell you everything we know about the upcoming Valorant Episode 6 map.
Valorant Episode 6 New Map - Leaks
Not a lot has leaked regarding the map, however, reliable source ValorLeaks revealed back in November that a map, codename Jam, would debut with the debut of Episode 6.

Soon after the Revelation trailer dropped, ValorLeaks shared that the map will be officially named Lotus and it will be a three-site one, similar to Haven. It would mark the first post-launch map to have three-sites, and naturally, only the second one in total.
Introducing Lotus | #VALORANT

> VALORANT's Newest 3 Site Map. pic.twitter.com/bBInsxALHC

— Mike | Valorant Leaks & News (@ValorLeaks) January 5, 2023
Besides the leaks, we did get our first official look of some sort at the map via the Revelation trailer.
On January 6, Riot Games confirmed that the map would indeed be called Lotus and that it would feature the three-site setup mentioned by ValorLeaks. Take a look at some of the in-game images of Lotus down below:
Lotus In-Game | #VALORANT

Lotus will contain 3 Sites, with a unique aspect being a Rotating Door. pic.twitter.com/HWdNNf94Lt

— Mike | Valorant Leaks & News (@ValorLeaks) January 6, 2023
Valorant Episode 6 New Map - Release Date
So far, speculation points out that the new Valorant map will be released on January 10, when Episode 6 debuts. It'll remain to be seen if the ranked playlist will get it immediately or if it will start with only six maps on the rotation while giving gamers time to discover it on unrated competition first.

As always, we'll keep you updated on everything regarding Valorant and the debut of Episode 6 Act 1. Will a new map be released at the same time it kicks off? Only a few more days to find out!
For more content: