Starting with patch 6.0, a new map rotation system will bring back fan-favorite Split, taking two maps out of Valorant.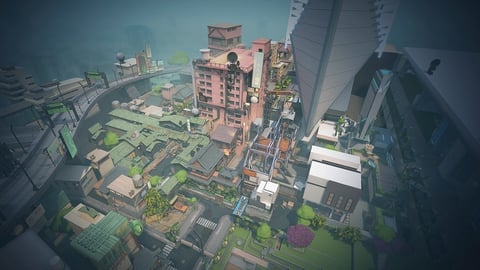 If you were waiting for Split to come back to ranked and unrated in Valorant, you're in luck! As Riot Games has confirmed the fan-favorite map will finally return, taking the place of both Bind and Breeze. Sadly, we'll still have to wait a little bit...
After promising a December filled with news, the Riot devs wasted no time kicking off the month with the unveiling of massive changes to Chamber, the Sentinel that's dominated the meta for months. These will come on patch 5.12.
On December 2, they revealed map rotation changes, finally confirming Split will return after seven months outside the competitive and unrated pools. It won't be a one-for-one trade, however, at least taking into account currently released maps, as Bind and Breeze will depart.
When Is Split Returning To Valorant?
Split is set to return to Valorant with patch 6.0, scheduled to hit the servers in early 2023. As for Breeze and Bind, they will be removed from ranked and unrated, but will remain in other modes such as custom games, Spike Rush, and more.
The old map you came to know and love will not be coming back as you remembered it, as Riot did confirm some changes were made to Split. However, we'll have to wait until more information regarding patch 6.0 is revealed by the developers.

As to why Breeze and Bind have been selected, this is what Joe "Pearl Hogbash" Lansford from Riot, had to say:
For Breeze, we feel like this map has some room to improve in terms of Agents and team comp diversity, as well as some opportunities for simplification of the space. And for Bind, it's mostly about strategic diversity. We'd like to open up more play around the teleporters and potentially rethink how teams execute, and defend against executes, on both sites.
We honestly can't wait for Split to come back, and are wondering, will a new map replace the two that are leaving? Only time will tell.
For more content: