The final Valorant Night Market will arrive just in time for the holidays, so better save up!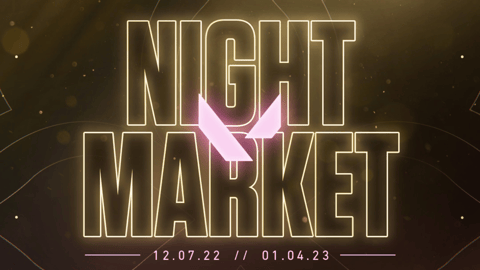 We all love a good discount, right? Especially when we're talking about Valorant skins! These cosmetics are by no means cheap, not even the more accessible ones, which would see you spend at least $10 per skin.
In fact, rumblings among the community point to the fact that a lot of players are fed up with Riot's pricing of cosmetics. In any case, they are still luxury items and it doesn't seem the devs will treat them as anything else.
Enter the Night Market, Riot Games' occasional Valorant in-game pop-up shop that comes with amazing discounts on multiple skins of different tiers you don't have in your collection.
Final Night Market of 2022 - When Is It Happening?
Riot Games announced via the Valorant social media account that the final Night Market will occur on December 7, lasting until January 4.
Year's coming to a close. Let's see it out with a Night. Market. DEC 7 - JAN 4 PT pic.twitter.com/PjZb6aKdzL

— VALORANT (@PlayVALORANT) December 1, 2022
The Night Market will show up in a brand-new tab in your Valorant menu, featuring five surprise skins you can unlock at your own leisure, all featuring different prices and discounts!
All the skins and discounts you get are completely random so it's really up to chance to see what you end up getting in your own Night Market.

If you want a proper primer as to what you can expect on your Night Market, we have a dedicated breakdown of all the collections available to show up in the upcoming December Night Market, as well as dates from previous ones, among other things.
And that's it! We hope you get a good Night Market when it rolls around next week!
For more content: