Valorant skin bundles never stop releasing and if you've missed track of how many are there, we got you covered!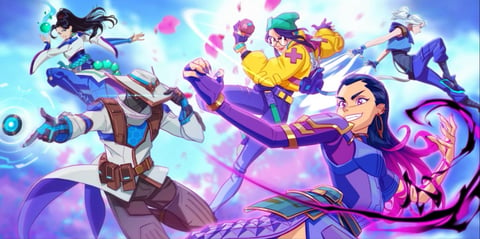 While Valorant is a completely free-to-play game if you want to shoot some heads with style, getting your hands on some sweet skins is a must.
The game features plenty of ways to get your hands on cosmetics. From the common battle pass goodies to the always present skin bundles, more exclusive, more expensive, but of course, more coveted.
There have been plenty of collections released in 2022, however, over the course of the past two years, skin bundles have become too many to keep track of. If you're keen on seeing every single skin that's even been a part of a bundle, stick around!
All Valorant Weapon Bundles
For this list, we'll only include every single weapon bundle, regardless of availability. This includes special cosmetics such as Champions skins and battle pass ones as well.
We'll split them based on rarity and include prices for complete bundles and individual weapon skins as well!
Select Weapon Skins:
Luxe: Ghost, Spectre, Judge, Vandal, Operator, Melee - 875 VP per weapon skin, 1750 VP Knife price
Galleria: Classic, Bucky, Guardian, Phantom, Marshal - 875 VP per skin

Rush: Frenzy, Judge, Bulldog, Phantom, Ares - 875 VP per skin

Convex: Spectre, Judge, Bulldog, Sheriff, Operator - 875 VP per skin

Smite: Classic, Judge, Phantom, Odin - 875 VP per skin, 1750 VP Knife price

Sensation: Frenzy, Stinger, Judge, Vandal, Odin - 875 VP per skin

Prism II: Shorty, Sheriff, Stinger, Bucky, Vandal - 875 VP per skin

Infantry: Ghost, Spectre, Guardian, Operator, Ares - 875 VP per skin

Endeavour: Ghost, Bulldog, Vandal, Operator, Ares - 875 VP per skin
Deluxe Weapon Skins:
Aristocrat: Sheriff, Stinger, Bulldog, Vandal, Ares - 1275 VP per skin
Sakura: Classic, Sheriff, Stinger, Vandal, Ares - 1275 VP per skin

Avalanche: Classic, Spectre, Phantom, Vandal, Marshal - 1275 VP per skin

Prism: Ghost, Spectre, Phantom, Operator, Ares, Melee - 1275 VP per skin, 2550 VP per Melee

Wasteland: Shorty, Sheriff, Spectre, Vandal, Marshal - 1275 VP per skin
WinterWunderland: Ghost, Phantom, Marshal, Vandal, Melee - 1275 VP per skin, 2550 VP per Melee
Horizon: Frenzy, Spectre, Bucky, Bulldog, Vandal - 1275 VP per skin
Silvanus: Stinger, Phantom, Vandal, Operator - 1275 VP per skin
Minima: Sheriff, Spectre, Phantom, Operator, Ares - 1275 VP per skin
Nunca Olvidados: Frenzy, Bulldog, Vandal, Ares, Melee - 1275 VP per skin, 2550 VP per Melee
Snowfall: Classic, Judge, Phantom, Ares, Melee - 1275 VP per skin, 2550 VP per Melee
Tigris: Shorty, Spectre, Phantom, Operator, Melee - 1275 VP per skin, 2550 VP per Melee
Team Ace: Frenzy, Judge, Phantom, Vandal, Operator - 1275 VP per skin
Titanmail: Frenzy, Bucky, Vandal, Ares, Melee - 1275 VP per skin, 2550 VP per Melee
Sarmad: Frenzy, Spectre, Phantom, Vandal, Melee - 1275 VP per skin, 2550 VP per Melee
Kohaku & Matsuba: Classic, Judge, Phantom, Operator, Melee - 1275 VP per skin, 2550 VP per Melee
Abyssal: Sheriff, Spectre, Guardian, Phantom, Melee - 1275 VP per skin, 2550 VP per Melee
Premium Weapon Skins:
Prime: Classic, Spectre, Guardian, Vandal, Melee - 1775 VP per skin, 3550 per Melee
Sovereign: Ghost, Stinger, Guardian, Marshal, Melee - 1775 VP per skin, 3550 per Melee

Oni: Shorty, Bucky, Guardian, Phantom, Melee - 1775 VP per skin, 3550 per Melee

Nebula: Sheriff, Guardian, Phantom, Ares, Melee - 1775 VP per skin, 3550 per Melee

Spline: Classic, Spectre, Phantom, Operator, Melee - 1775 VP per skin, 3550 per Melee

Ego: Ghost, Stinger, Guardian, Vandal, Melee - 1775 VP per skin, 3550 per Melee

Gravitational Uranium Neuroblaster: Classic, Spectre, Bucky, Operator, Melee - 1775 VP per skin, 3550 per Melee

Reaver: Sheriff, Guardian, Vandal, Operator, Melee - 1775 VP per skin, 3550 per Melee

Ion: Sheriff, Bucky, Phantom, Operator, Melee - 1775 VP per skin, 3550 per Melee

Celestial: Frenzy, Judge, Phantom, Ares, Melee - 1775 VP per skin, 3550 per Melee

Valorant GO! Vol. 1: Ghost, Spectre, Guardian, Phantom, Melee - 1775 VP per skin, 3550 per Melee

Prime 2.0: Frenzy, Bucky, Phantom, Odin, Melee - 1775 VP per skin, 3550 per Melee

Magepunk: Ghost, Spectre, Bucky, Marshal, Melee - 1775 VP per skin, 3550 per Melee

Forsaken: Classic, Spectre, Vandal, Operator, Melee - 1775 VP per skin, 3550 per Melee

Tethered Realms: Ghost, Guardian, Vandal, Operator, Melee - 1775 VP per skin, 3550 per Melee

Origin: Frenzy, Bucky, Vandal, Operator, Melee - 1775 VP per skin, 3550 per Melee

Recon: Ghost, Spectre, Guardian, Phantom, Melee - 1775 VP per skin, 3550 per Melee
Valorant GO! Vol 2: Classic, Vandal, Operator, Ares, Melee - 1775 VP per skin, 3550 per Melee

Radiant Crisis 001: Classic, Spectre, Bucky, Phantom, Melee - 1775 VP per skin, 3550 per Melee

Magepunk 2.0: Sheriff, Guardian, Operator, Ares, Melee - 1775 VP per skin, 3550 per Melee

Undercity: Classic, Judge, Bulldog, Phantom, Melee - 1775 VP per skin, 3550 per Melee

Gaia's Vengeance: Ghost, Guardian, Vandal, Marshal, Melee - 1775 VP per skin, 3550 per Melee

Doodle Buds: Shorty, Stinger, Phantom, Marshal - 1775 VP per skin

Neptune: Shorty, Spectre, Guardian, Vandal, Melee - 1775 VP per skin, 3550 per Melee

Xenohunter: Frenzy, Bucky, Phantom, Odin, Melee - 1775 VP per skin, 3550 per Melee

Reaver EP5: Ghost, Spectre, Phantom, Odin, Melee - 1775 VP per skin, 4350 per Melee

Crimsonbeast: Sheriff, Judge, Vandal, Marshal, Melee - 1775 VP per skin, 3550 per Melee

Ion 2.0: Frenzy, Spectre, Vandal, Ares, Melee - 1775 VP per skin, 4350 per Melee

Soulstrife: Ghost, Spectre, Guardian, Phantom, Melee - 1775 VP per skin, 3550 per Melee

Cryostasis: Classic, Bulldog, Vandal, Operator, Melee - 1775 VP per skin, 3550 per Melee

Exclusive Weapon Skins:
Glitchpop: Frenzy, Judge, Bulldog, Odin, Melee - 2175 VP per skin, 4350 per Melee
Singularity: Sheriff, Spectre, Phantom, Ares, Melee - 2175 VP per skin, 4350 per Melee

BlastX: Frenzy, Spectre, Phantom, Odin, Melee - 2175 VP per skin, 4350 per Melee

Glitchpop 2.0: Classic, Phantom, Vandal, Operator, Melee- 2175 VP per skin, 4350 per Melee

Ruination: Ghost, Spectre, Guardian, Phantom, Melee - 2175 VP per skin, 4350 per Melee

Sentinels of Light: Sheriff, Vandal, Operator, Ares, Melee - 2175 VP per skin, 4350 per Melee

RGX 11z Pro: Frenzy, Stinger, Guardian, Vandal, Melee - 2175 VP per skin, 4350 per Melee

RGX 11z Pro 2: Classic, Spectre, Phantom, Operator, Melee - 2175 VP per skin, 4350 per Melee
Prelude To Chaos: Shorty, Stinger, Vandal, Operator, Melee - 2175 VP per skin, 4350 per Melee

ChronoVoid: Sheriff, Judge, Phantom, Vandal, Melee - 2175 VP per skin, 4350 per Melee

Spectrum: Classic, Bulldog, Guardian, Phantom, Melee - 2675 VP per skin, 5350 per Melee

Ultra Weapon Skins:
Elderflame: Frenzy, Judge, Vandal, Operator, Melee - 2475 VP per skin, 4950 VP per Melee
Protocol 781-A: Sheriff, Spectre, Bulldog, Phantom, Melee - 2475 VP per skin, 4950 VP per Melee

For more content: