Riot Games has done a great job avoiding leaks this time around, as fans are barely putting together what the ninth map of Valorant will look like.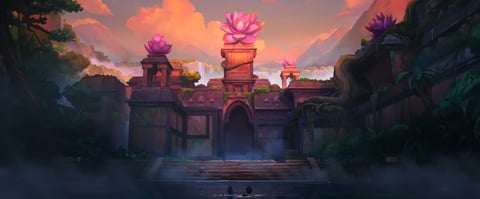 Fans are eagerly anticipating the upcoming Valorant Episode 6 to kick off, with Act 1 set to receive a brand-new map, one that we finally got to see during the Revelation trailer on January 5.
The story trailer features fan-favorite Agents such as Jett, Killjoy, Raze, Astra, and Harbor unknowingly meeting at what looks like an ancient temple located in India with impressive architecture and lush greenery making the site look outstanding.
Riot started teasing the new map just a few days ago with cryptic small clips on social media depicting Agents like Fade on the hunt for someone, or possibly something, Omen and Sage gearing up for a mission, and both Astra and Harbor running through a vast jungle trying to escape from Atlas operatives with the help of nature-lover Skye.
On the leaks side of things, we really didn't get any concrete information, other than a new map was in development and was codenamed, Jam. This occurred in November and since it was coming from ValorLeaks, you can rest assured they were on point with the information.
Speaking of ValorLeaks, the reliable dataminer shared via social media that the map will be officially called Lotus and it will be the first three-site map since Haven.
Introducing Lotus | #VALORANT

> VALORANT's Newest 3 Site Map. pic.twitter.com/bBInsxALHC

— Mike | Valorant Leaks & News (@ValorLeaks) January 5, 2023
It will be interesting to see this map in action, as Haven usually has a very distinct meta due to having the aforementioned three sites unlike the standard A and B Sites found on the rest of Valorant maps.

Stay tuned for all things Episode 6 as we inch closer to it!
For more content: