We all love good loot from Prime Gaming right? And if you're still in the holiday spirit, you got time to snag this amazing gun buddy for your Valorant account.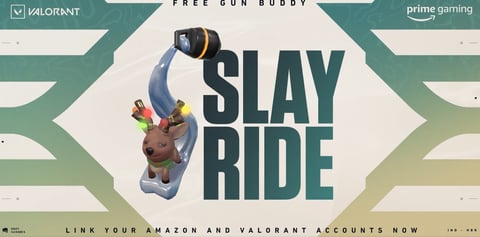 The holiday period might be over, but Prime Gaming can still gift you some joyous goodies. This time, you can get your hands on the Slay Ride Gun Buddy, for free!
If you weren't aware, being a member of Amazon Prime can net you some sweet gaming rewards, including plenty of loot for Riot Games' titles such as League of Legends, Legends of Runeterra, and of course, Valorant.
Here's everything you need to know to get the Slay Ride Gun Buddy, you don't want to miss out on it!
How To Get Free Valorant Gun Buddy With Prime
First off, if you don't have Prime Gaming, you can actually get a seven-day free trial to give it a shot and redeem the gun buddy with no issues. Simply head to the Prime Gaming site and click on Try Prime.
Once you've done this, follow the next steps, you'll need to connect your Twitch and Riot Games accounts. Here's how to do it:

Log in to your Twitch account
Go to Configuration and head to the Connections tab
Find Riot Games and click Connect
Click Authorize
After you connect your newly Prime Gamified Twitch account with your Riot Games ID, go back to the Valorant Prime Gaming Hub and simply click on the Claim Now button above the Gun Buddy.

After linking your account, your claimed content will be available next time you log in to Valorant. It might take up to two hours for the content to show up on your account, so keep that in mind next time you jump into the game.

For more content: