The last EMEA team and now former VCT Champion is out of the tournament as DRX will join OptiC in the lower bracket finals of VCT Istanbul. This article will serve as a recap of day 14.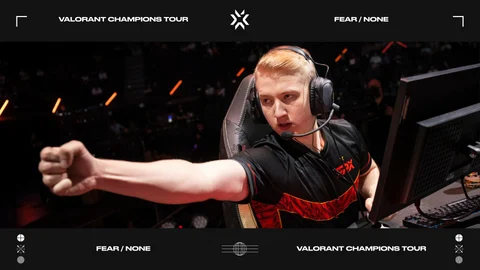 VCT Istanbul is coming to an end as there is only 1 more day until the grand finals. Day 14 gave us very hyped games, the first grand finals, but also an elimination of the former champion.
Loud Continues To Dominate
We are near the end of this marvelous VCT, and we are sure that as we are so far in the tournament no one doubted that Loud will be the dominant team to reach the grand finals first. They have been a positive surprise this tournament and managed to prove a lot of things people didn't believe in. The first and most important one is that it is possible to win a Bo3 without picking Chamber.
.@loud_aspas gets the 4K to tie the score! pic.twitter.com/MEdqCXpUth

— VALORANT Champions Tour TR (@ValorantEsports) September 16, 2022
Throughout this tournament, Loud has been super creative and willing to experiment team, as they rarely had the same or similar lineups in their Bo3 games. The other significant thing that even analysts and pros agree on, is that this team is based on team effort. In their games, we will rarely see standout performances from an individual, but rather see the whole team perform on a mutually high level.
That's exactly what happened in this Bo3 as well. In both games, they had similar KDA and ACS, and their team discipline was outstanding. As for OptiC, everyone believed they had an upper hand versus Loud as their previous Bo3 showed that OptiC was a slightly better-performing team than them. This is not the endgame for OptiC as they've just dropped to the lower bracket where they will have to pass the test versus DRX to get a second chance at higher stakes against Loud.
.@LOUDgg PUNCHES THEIR TICKET TO THE #VALORANTChampions GRAND FINALS! #LOUDWIN pic.twitter.com/ENOlqEoHAY

— VALORANT Champions Tour TR (@ValorantEsports) September 16, 2022
FPX Fail To Defend Their Title

Yet again, Istanbul proves that the 9-3 curse is a real thing in Valorant. We will get back to this a bit later. FPX chose Icebox as their first map, and everyone expected them to jumpstart their way on the defense in this elimination game in the lower bracket. DRX dominated the first half, but after their eco rounds finished as FPX won the first 2 rounds. They destroyed A site with their well-timed executions that crushed the enemy defenses. Towards the end of the first half, FPX woke up and managed to close down the half trailing 5 to 7.
.@Zyppaan ends the first half with a 4K! #VALORANTChampions pic.twitter.com/xv28CBpzrg

— VALORANT Champions Tour TR (@ValorantEsports) September 16, 2022
ZyppaN was a beast and from the video above you could see how determined he was to win this game with his hype clutch. FPX started the second round in fashion going 6 to 1 by round 20 where everything just crumbled for them. DRX called a very crucial timeout in which they sorted their defense plans and went 5-0 to win the first map 13 to 11.
We all remember how dominant FPX was in Copenhagen, and it was expected for them to bring the same kind of energy coming to this VCT as well. DRX chose Haven as Map 2 and FPX was more than happy to take their elimination chances on this map. We're not going to go into details but will just say that they ended the first half 9 to 3. SUYGETSU's surprise Viper pick was very impactful and combining his util kit together with his standout abilities to get the kills going he might be the one to blame for this near-perfect first half.
4K FOR @suygetsu_! #VALORANTChampions pic.twitter.com/Aifs7xSqk7

— VALORANT Champions Tour TR (@ValorantEsports) September 16, 2022
This is all fine and well for FPX, and their elimination is not so close, at least on the scoreboard. But no one forgot how the 9-3 curse works, and so it happened. All Hail King Buzz was what twitch chat was spamming as DRX got 10-round wins in a row. We're not sure but this might be a VCT record, or at least close to it. No one is certain what happened to FPX in the second half. Either DRX went super Saiyan mode, or the curse really struck FPX and it wasn't Buzz's godlike performance that made this come back happen.
DRX ELIMINATES THE MASTERS COPENHAGEN WINNERS AT #VALORANTChampions ISTANBUL! #DRXWIN pic.twitter.com/tw9POVBUYl

— VALORANT Champions Tour TR (@ValorantEsports) September 16, 2022
Valorant Champions Istanbul Day 14: All Match Results
Valorant Champions Istanbul Day 15: Upcoming Matches

| | |
| --- | --- |
| Date | Match |
| September 17th 16:00 CEST | OptiC Gaming vs DRX |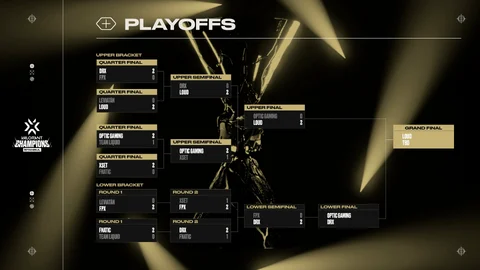 Loud will be resting tomorrow as they are waiting for their opponent from the awaited duel between OptiC and DRX. We can expect a high-tense game and a final battle between NA and SEA. That will be all for this Day 14 Recap of VCT Istanbul, we hope it satisfied your Champions needs and if you are in need of more content like this one, hop on our Valorfeed Esport or News section where we regularly cover anything about Valorant.