After many teasers, speculations, and even leaks, Riot Games gave fans the first official look at Agent 21, Harbor.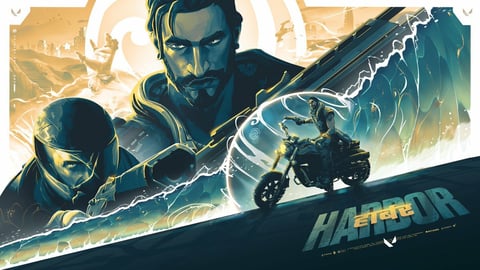 UPDATE: After leaks ruined the surprise, Riot Games officially launched the first trailer for Harbor, and it looks stunning!

Original story:
It's finally here, after long speculation and starving players looking to get a look at a new Valorant character, Riot Games officially revealed Agent 21, Harbor, giving us the first official look at what he looks like.
The image, which you can see above, was shared on Valorant's official social media channels on October 10. On top of seeing the Agent for the first time, the imagery confirms recent speculation that Harbor would indeed be a character with water-based abilities.
October 10, 2022
Of course, we knew beforehand that Harbor would be a Controller per Riot themselves - and as we've mentioned in previous articles, the leaks that allegedly showcased his abilities, while deemed not real by the supposed creator, are growing in validity the more we know about Agent 21.
The reveal of Agent 21 will likely coincide with the release of Valorant Episode 5 Act 3, which will occur later this October. It would mark the end of a long-drought fans have had to endure for new characters to expand the Valorant Agent roster.
The latest Agent that made its way into the game, Fade, was released during Episode 4 Act 3, which happened all the way back in late April, almost six months ago. What's more, this will be the first Controller Agent to join Valorant since Astra, who joined the cast of playable characters during Episode 2 Act 2 in March 2021, over 17 months ago.

As always, stay tuned to ValorFeed for all upcoming information regarding Harbor and more Valorant content for your viewing pleasure!
For more content: