Keep tabs on every VCT Americas results right here! Which teams will compete at Valorant Masters and Champions?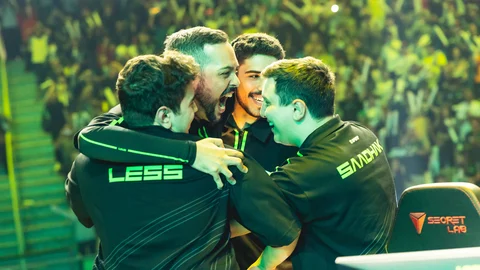 The VCT International Leagues have kicked off, with Americas, EMEA, and Pacific teams looking to earn their spots for the second major offline event - Masters Tokyo.
The biggest league, at least in terms of popularity, is none other than VCT Americas, which has already a bigger peak and average viewership than both EMEA and Pacific.
Of course, the VCT Americas League is a marathon, and sometimes keeping up with all results and matches can be a bit daunting. So, while we have a dedicated guide to help you with the format and schedule, we'll now talk about results and standings!
VCT Americas 2023 Results
Here are all the results split by week. This section will be updated after every matchday.
Week 1
Sentinels 2-1 100 Thieves

KRÜ Esports 0-2 FURIA Esports
LOUD 2-1 MIBR
Evil Geniuses 0-2 Cloud9
Leviatán 2-0 NRG
Week 2
Cloud9 1-2 LOUD
Leviatán 1-2 FURIA Esports
NRG 2-0 Sentinels
MIBR 2-1 KRÜ Esports
Week 3

Cloud9 2-0 100 Thieves
NRG 1-2 MiBR
Leviatán 2-1 Sentinels
Evil Geniuses 2-1 KRU Esports
LOUD 2-0 Furia Esports
Week 4

LOUD 2-1 Sentinels
Leviatán 2-0 MiBR
KRU 1-2 100 Thieves
Evil Geniuses 1-2 FURIA
NRG 1-2 Cloud9
MiBR 1-2 Sentinels
Leviatán 1-2 100 Thieves
Evil Geniuses 1-2 LOUD
Cloud9 2-0 FURIA
NRG 2-0 KRU
Week 5
NRG 2-0 100 Thieves
MiBR 0-2 FURIA
Cloud9 2-0 Sentinels
Leviatán 1-2 Evil Geniuses
LOUD 2-1 KRU
Week 6:
EG 2-0 Sentinels
C9 2-0 MiBR
LOUD 2-0 100 Thieves
Leviatán 2-0 KRU
NRG 2-1 FURIA
Week 7:
FURIA 1-2 100 Thieves
EG 2-0 MiBR
KRU 0-2 Sentinels
NRG 2-0 LOUD
Leviatán 0-2 C9
Week 8:
Sentinels 2-1 FURIA
NRG 2-0 EG
VCT Americas 2023 Standings
This table will be updated after each matchday so you know it'll always be up to date!
LOUD: 7-1

Cloud9: 7-1

NRG: 6-3
100 Thieves: 4-4
Leviatán: 4-4
Evil Geniuses: 4-5
FURIA: 4-5
Sentinels: 4-5
MiBR: 2-6
KRU Esports: 0-8
And that's it! Who will make it to Masters Tokyo? Only time will tell.

For more content: