Despite initial criticism for allegedly not taking Game Changers seriously, the Disguised Toast strategy ended up benefitting the entire scene in the end.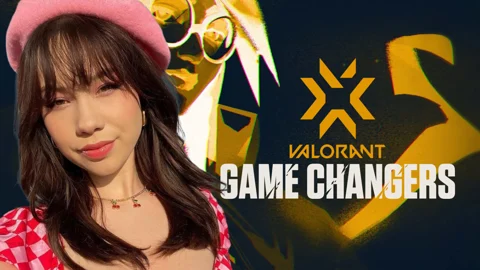 Contrary to what haters and critics believed, Disguised Toast's decision to field a team primarily composed of popular content creators over professional players for the Valorant Game Changers Series 1 Open Qualifier ended up being a resounding success.
Why? Not only did Disguised GC end up winning their debut match, but they also helped the Game Changers scene, which focuses on highlighting women and minorities within the Valorant community, reach 100k viewers.
Disguised GC Streamer Team Debuts With A Massive Win
Disguised GC, which features the talent of prominent Twitch streamers such as Jodi "QuarterJade" Lee and 100T creator Alicia "Kyedae" Shymko, entered the Game Changers 2023 Series I, placed in Group B.
Playing against SHIFT X in the first round, DSG GC surprised everyone by convincingly winning their first match 2-0 and earning the opportunity to play against Evil Geniuses for a spot in the next round.
What's more surprising is the amount of support their debut received, reaching over 100,000 viewers dispersed across co-streams and the main Game Changers broadcast.
According to Disguised Toast, his stream peaked at 62,896 viewers, almost as much as the GC Championship finals from last year.
Really proud of the GC team today!

And very cool that we peaked the same amount of viewers as the GC Grand Finals last year at 60k+

This is definitely a scene that is worth supporting and hoping investors/sponsors recognize the immense potential that is here. pic.twitter.com/7CXbLgoMZO

— DSG Toast (@DisguisedToast) April 5, 2023
The main broadcast also reached almost 25,000 viewers at one point with other co-streamers such as the one hosted by Valkyrae helping Game Changers reach a historic viewership.
People were mad at Disguised Toast fielding a female content creator roster for Valorant Game Changers

But I'd say 100k viewers for VGC is a huge W, and they can game pic.twitter.com/fi0YZQXMYQ

— Jake Lucky (@JakeSucky) April 4, 2023
Despite eventually losing to EG in the next round, DSG GC's debut in the scene was a complete success regardless if they make it into the next round of the qualifiers or not. Sometimes, it's about sparking interest in a scene rather than building a roster with the sole purpose of competing in it.
And in this case, it seems both goals are being achieved, with DSG still having a shot at advancing to the next round if they can beat SHIFT X once more.

For more content: