Episode 6 Act 1 seems like it just begun but we got our second skin bundle after Araxys. This one made to celebrate the Lunar New Year.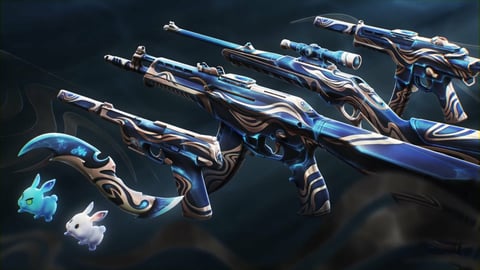 There's no shortage of skins in Valorant, from expensive and somewhat exclusive ones to more affordable ones. This time, just days after the Araxys bundle was revealed, we got yet another collection: the Luna Bundle.
According to Riot Games, this is a Lunar New Year-inspired set of cosmetics. The celebration marks the beginning of the lunisolar calendar, where each moon cycle represents a different month.
Let's talk about everything you need to know about the upcoming Luna bundle, including which skins it comes with, its release date, price, and more.
Luna Valorant Bundle - Release Date & Skins
Let some light into your Lunar New Year with the Luna Bundle, containing cosmetics specially made to celebrate the Year of the Rabbit. Available in your shop JAN 26 PT. pic.twitter.com/uXycP5d188

— VALORANT (@PlayVALORANT) January 18, 2023
The Luna skinline will hit the Valorant in-game store on January 26 and will take over the featured section of the shop replacing the Araxys bundle. Once the Araxys skins are gone the only way for you to get them is via the Night Market or the daily shop rotator.
The collection will feature skins for the following weapons:
Spectre
Marshall
Vandal
Ghost
Melee
Since this will be the Year of the Rabbit, the bundle also comes with two appropriate gun-buddies to complement the skins. As of the time of writing, we don't exactly know if the skins will come with some sort of variant or special effects.
Luna Valorant Bundle - Cost
Riot has yet to unveil the cost of the bundle. By the looks of things, it might be on the cheaper side of things since the devs didn't show off any special effects like kill banners, sound effects, or else.

In any case, we'll update you once more information about the Luna bundle is released!
For more content: