The Valorant community is incredibly talented and proof of that are these amazing concept skins that re-imagine the guns as a videogame controller.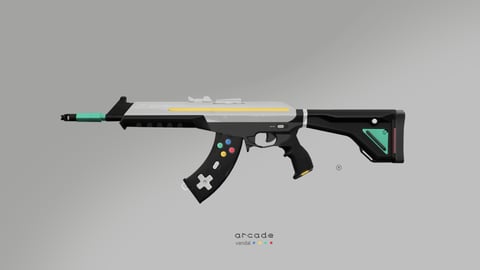 We've covered plenty of incredible concept art and community-created skins or cosmetics for Valorant in the past. Some, like the Reaver 2.0 skins actually became a reality soon after fanmade creations were unveiled.
Of course, more often than not, these skins just end up being nothing more than really cool and amazing fan art, and that's completely fine! However, this time, we feel the pain of everyone looking for a cool gamer aesthetic with the Arcade skin concept designed by 100 Thieves Senior Designer Seso.
Seso has showcased amazing designs before, but to us, these take the cake. Thus far, the designer only showed off what the iconic Vandal would look like in this style. Featuring a classic D-pad, a pause button, and four face buttons with similar patterns to those used by Nintendo and Microsoft, that is X, A, B, & Y using yellow, red, blue, and green colors.
Introducing the Valorant,

[ Arcade ] skin concept.

Anyone else just want to click the buttons? pic.twitter.com/pvsmptcrNU

— Seso (@SesoHQ) December 16, 2022
While the designs are only concept art at the moment, something that got us slightly excited is the fact that community member Vegod, a content creator who specializes in 3D animation and has come up with some incredible stuff, showed interest in bringing the Arcade Vandal to life.
yo wait you lowkey might be onto something here, what if we worked on making this into 3D

— Vegod (@Vegod_) December 16, 2022
In all honesty, while we don't see Riot Games directly using these designs anytime soon (for obvious reasons we might add), it's almost a certainty that they are paying attention to any sort of interest the Arcade Vandal might kindle within the community and could potentially use it as an inspiration for further collections.
Why should you believe the above? Well, Seso actually designed a Doodle Vandal, with Riot Games promptly contacting him to help create what we know now as the Doodle Buds collection!
For more content: