Leakers have all but confirmed the addition of a new Reaver collection, including skins for Phantom and a new Karambit melee weapon.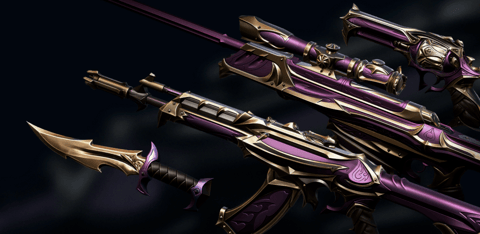 Reaver is one of the most iconic Valorant skin collections. Similar to Glitchpop, Elderflame, or Oni, they are for lack of a better term, built differently.
Unlike other collections that have garnered such success, a Reaver 2.0 was always due, especially since last collection missed out on a weapon that the vast majority of players wanted to see get the edgy Reaver treatment - the Phantom.
Well, this time, Phantom users are in luck, as well as those looking to get their hands on a brand-new incredible looking melee weapon, as Reaver 2.0 will reportedly feature plenty of goodies for everyone to enjoy.
Reaver 2.0 Bundle - Release Date and Skins
The Reaver bundle is now available and will be in the featured section of the in-game Valorant shop for the coming weeks. Once it's gone, your only chance will be to get individual skins during the daily rotation.
Reaver Phantom
Reaver Odin
Reaver Ghost
Reaver Spectre
Reaver Karambit
Reaver 2.0 Bundle - Price
You'll have to pay a pretty penny for this collection. In line with the previous Reaver collection, this is also branded as Premium-tier cosmetics, costing a total of 7,100 Valorant Points (VP) for the entire collection. Each individual skin is available for 1,775VP, meanwhile the Melee weapon is sold for 4,350VP.

The Reaver bundle will also feature a Player Card which you can see below courtesy of ValorLeaks.


Reaver Playercard | #VALORANT pic.twitter.com/EnnxTHZPCt

— ValorLeaks | Valorant Leaks & Info (@ValorLeaks) August 9, 2022


The same leaker also added a video featuring all of the cosmetics and variants you can expect when the Reaver 2.0 bundle hits.



For more content: