Both LOUD and NRG, soon-to-be rivals at the Americas International League, took down EMEA squads, Karmine Corp and Giants.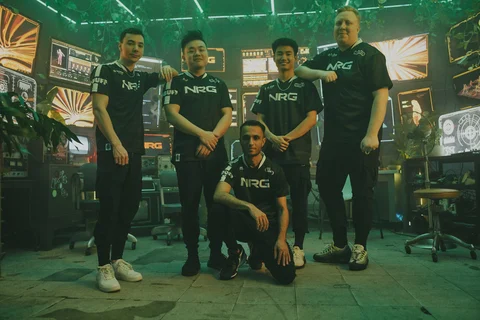 In the Round of 16 of VCT LOCK//IN, both NRG (ex-OpTic) and LOUD faced off against EMEA's Giants and Karmine Corp, respectively. So, well, the NA teams kind of smashed them and you know what that means? Nope, not Americas > EMEA – there will be another match to the OpTic vs LOUD saga!

VCT LOCK//IN Day 4: NRG & LOUD Win Their Matches
North American NRG and Brazilian LOUD have advanced to the semifinals of the VCT LOCK/IN tournament, with a place in the Alpha bracket playoffs at stake.
The first match we saw was NRG playing against Giants, which is a team that we thought could be a dark horse of this season, and honestly, they kind of showed a bit of power; especially when it comes to Adolfo "Fit1nho" Gallego and his Duelist gameplay. The first map (Lotus) was pretty intense, and it even got to overtime, which Giants won. However, the next two maps were just NRG farming the EMEA players; especially the match on Haven, where the ex-OpTic squad won with a score of 13:1.
4K from @Crashies #VCTLOCKIN pic.twitter.com/ZcdFz1M7HM

— VALORANT Champions Tour (@ValorantEsports) February 17, 2023
9-3 for @NRGgg as they take another clean round going into the half! #VCTLOCKIN

: https://t.co/io2c23tsMd pic.twitter.com/peAH91VpWg

— VALORANT Champions Tour (@ValorantEsports) February 17, 2023
And the second match was an easy 2-0 sweep from LOUD (current Valorant World Champions) against Karmine Corp, which is ScreaM's new home. Even though the entire LOUD roster played in a really outstanding fashion, we have to point out that it was definitely the day of Felipe "Less" de Loyola of the Brazilian team, who finished the match with a KD of 49/27. His highlights really brought the audience incredible excitement, and we do not doubt that he is one of the better Viper players out there.
The crowd is HYPED after @LOUDgg's win!!! #VCTLOCKIN pic.twitter.com/XfrOErK5EK

— VALORANT Champions Tour (@ValorantEsports) February 17, 2023
Here are all the results and map scores from the Day 4 of VCT LOCK//IN:
| | | | | |
| --- | --- | --- | --- | --- |
| Team 1 | Team 2 | Map 1 | Map 2 | Map 3 |
| NRG (North America) | Giants (EMEA) | Lotus (12:14) | Haven (13:1) | Icebox (13:7) |
| LOUD (Brazil) | Karmine Corp (EMEA) | Pearl (13:10) | Split (13:8) | |
With these results, both EMEA teams are out of the tournament, while NRG and LOUD will face each other in the Alpha Bracket semifinals. That's right, history is repeating itself again, and we'll see both squads against each other again, as we did many times during the VCT 2022 season. As a reminder, their last clash was a world championship match, so emotions are high, and the crowd will probably be even wilder. Whoever, wins this match will qualify for the Playoffs spot, and the loser goes back to the airport.
However, before that happens, there are still two quarterfinal matches to be played, and these are:
| | |
| --- | --- |
| Match | Date |
| DRX (APAC) vs Cloud9 (North America) | February 18, 06:00 PM CET |
| Evil Geniuses (North America) vs Talon Esports (APAC) | February 15, 09:00 PM CET |
For more Valorant content: