After waiting almost a full year, VCT Champions is back, and the best Valorant content & gameplay is coming. Here's what's going to happen on Day 1.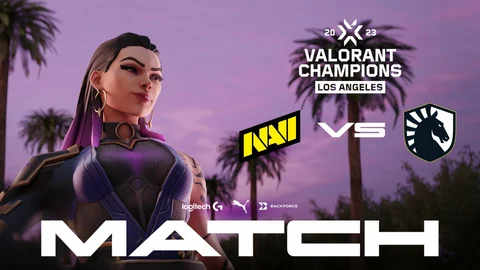 Even though they are scheduled randomly, the opening matches of any event are the most anticipated ones. Being first in the line of fire & breaking the ice for the others, results in chaotic gameplay that's pleasing to the viewer's eye.
Where To Watch Day 1 Champions 2023
These are the official streams that are listed by Riot for the upcoming Day 1 of Champions 2023. The primary and most viewed one will be the English one on Twitch, and the rest are secondary streams that will have commentary from different languages.
Valorant Champions 2023 Official Streams
On the tweet below you can see the official Watch Parties that you can tune in to during Champions.
The official #VALORANTChampions Watch Party list is here!

Who are you watching with? pic.twitter.com/GNdUImcOQ2

— VALORANT Champions Tour (@ValorantEsports) August 5, 2023
English Stream (Primary):
German Stream:
French Stream:
Turkish Stream:
Latin American (ES) Stream:
Filipino Stream:
Valorant Champions 2023: Day 1 Matches
The first day of Champions will be filled with the opening ceremony coupled with the two matches that are scheduled today. Group D matches will be the only ones being played out and here they are.
The biggest @VALORANT event of the year is almost here! Don't miss these matchups on the Opening Day of #VALORANTChampions

Catch all the action at https://t.co/8AkEniHuLH pic.twitter.com/RFnAjmpsKJ

— VALORANT Champions Tour (@ValorantEsports) August 6, 2023
Champions Day 1 Schedule
You can check each team's current roster by clicking on the team name.
| | | |
| --- | --- | --- |
| Maps | Teams | Result |
| Map 1: Fracture | Team Liquid vs NaVi | 11-13 NaVi Win |
| Map 2: Bind | Team Liquid vs NaVi | 15-17 NaVi Win |
| Decider Map: Split | Team Liquid vs NaVi | // |
| | | |
| Map 1: Lotus | DRX vs LOUD | 13:15 LOUD Win |
| Map 2: Split | DRX vs LOUD | 13:6 DRX Win |
| Decider Map: Ascend | DRX vs LOUD | 13:8 DRX Win |
Who will take home the gold? #VALORANTChampions

Tap to find out pic.twitter.com/l5vYUltv6J

— VALORANT Champions Tour (@ValorantEsports) August 5, 2023
Champions 2023 Team Liquid vs Natus Vincere: Head to Head Results
VCT 2023 EMEA: Team Liquid 2:0 NaVi | 24.05.2023

VCT 2023 EMEA: Team Liquid 0:2 NaVi | 05.05.2023
VCT EMEA LCQ: Team Liquid 2:0 NaVi | 10.08.2022
Champions 2023 DRX vs LOUD: Head to Head Results
VCT LOCK//IN Sao Paulo: DRX 2:3 LOUD | 02.03.2023
VCT Champions 2022: DRX 0:2 LOUD | 12.09.2022
Community Takes & Predictions
Games at Champions are unpredictable and even the underdogs can stomp the champs. Day 1 is expected to have ups and downs and we are expecting the unthinkable in the two matchups.
Team Liquid is a powerhouse and one of the most successful teams in Valorant as of now. They are the favorites in their matchup but NaVi is not to be underestimated. Based on Twitter posts & comments the expected result of this one is to be 2:1 for either since, but TL is slightly favored over NaVI.
Defender a taca do mundial de VALORANT e trazer o bicampeonato pro Brasil e a nossa meta principal para a #VALORANTChampions

Senhoras e senhores, amanha e dia de LOUD vs DRX. #LOUDWIN pic.twitter.com/Vd2XBs6qOt

— LOUD BR (@LOUDgg) August 6, 2023
LOUD are the defending Champions in Los Angeles but have had some drama lately surrounding their players. The most recent one was about Aspas not renewing his contract and rumors about joining Sentinels & replacing TenZ. Whether this will or not affect LOUD we will see in a couple of hours. This matchup can be anyone's, and anything can happen.
Will NaVi prove the doubters wrong, and will LOUD manage to kick-start their title defense as they expected?

For more Champions content:
This article contains affiliate links as indicated by the shopping cart icon. Please read the article carefully before clicking any links.