The competitive side of Valorant is hungry for some record-breakers and idols to become the face of the game. Champions 2023 is the biggest event, and which outcomes might produce one?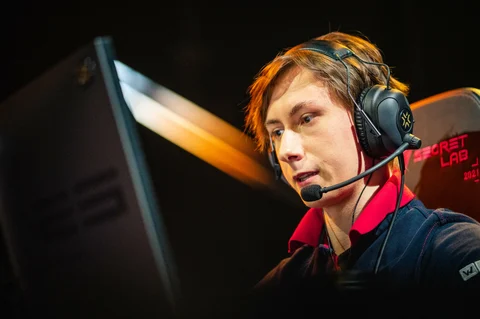 The definition of GOAT in Esport games would be a person that has a huge fanbase but also achievements to back his "mount rushmore" status. Valorant potentially has a few, but none have been engraved yet.
Can We Get A Goat At Valorant Champions 2023
Los Angeles has been known as the city of angels, but GOATS as well. In sports terms, a lot of NBA superstars have made their careers so rich of success they've become one of the best in their era. Valorant can be no different, and with so much at stake at Champions 2023, a Goat might be born.
But, what is the definition of a Goat in Valorant?
Here are some examples:
Multiple Masters winner? - That would be FNATIC Chronicle
Invincible's style win at a Masters? - That would be SEN TenZ
Two-Time VCT Champions Winner? - Aspas, Less & saadhak could be candidates if they lift the trophy in Los Angeles
Who's A Goat Candidate At Valorant Champions 2023
Timofey "Chronicle" Khromov
Fnatic are a powerhouse right now, and it doesn't seem like anyone's stopping them, yet. Team effort is the one to blame for their success and the individual from Chronicle. Currently, his trophy cabinet is the richest in all of Valorant and has become the only player in Valorants three year history to win two Masters trophies.
first two-time champion. unbelievable. pic.twitter.com/MoyWfOPlag

— kronikel (@chronicleEZ) March 5, 2023
With a Champions 2023 win, his status would probably be sealed, and he will be engraved as one of Valorant's best all-time players.
Here are his most important achievements so far:
Masters Tokyo Winner
Masters Berlin Winner
LOCK//IN São Paulo Winner
Valorant Champions 2021 Runner Up
LOUD aspas, Less & Saadhak
There is no splitting between these three, as they are all defending their Champions 2022 title in Los Angeles. Together with Sentinels's pancada & Sacy, they won last year's Champions 2022 and have a chance to defend it and write history in LA.
This VCT superstar needs no introduction!

Can @loud_aspas add another #VALORANTChampions title to his list of accomplishments? pic.twitter.com/Zv0CXmwo8Z

— VALORANT Champions Tour (@ValorantEsports) August 2, 2023
There is no better proving ground than to be a back-to-back Champions Winner, and having that, certainly puts you in the GOAT category.
Here are their most important achievements so far:

Valorant Champions 2022 Winner

VCT 2023: Americas League Winner
Stage 1 Masters Reykjavik Runner Up
LOCK//IN São Paulo Runner Up
Fnatic Boaster, Derke & Alfajer
This is the Fnatic Era.

This is how we became Valorant's first back-to-back international champions: pic.twitter.com/0xgq8KA6m9

— FNATIC (@FNATIC) June 29, 2023
As they are currently being predicted to be the winners based on odds made by bookmakers, these three can fill up their already filled trophy cabinet and make history. Fnatic are on fire, and their team has shown no flaws so far, and with their previous performance and success, they are potential GOATees if they manage to lift the trophy in LA.
Here are their most important achievements so far:
Masters Tokyo Winner

LOCK//IN São Paulo Winner
Masters Reykjavik (2021) Runner Up
Not as good as their teammate Timofey, but that Back to Back International Champions vibe sure hits hard.

More VCT content: