Being in the third year since its release, Valorant is yet to face the toughest challenges in terms of its player base. Here's how many there are, and what the metrics predict about it.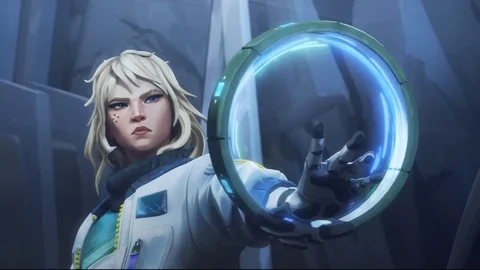 Valorant is the most popular FPS game right now on the market, and it's attracting more and more players as time goes by. Keeping this pace is vital for Riot, as constant growth in terms of player count means longevity for its game.
How Many People Are Playing Valorant?
The client doesn't provide the number of players playing the game either at the moment or for the month. As an example, about 2 years ago Dota 2 had a current number of players online counter, but had it taken down for certain reasons. This is a company policy and it seems like every game dev is making it for their game.
Tracker.gg is equivalent to what op.gg is for League of Legends, what dotabuff is for Dota 2, or what HLTV is for CS:GO. It uses the Valorant API to track various Valorant stats, and the number of players is one of them.
Currently, for August, a total of 9,456,890 people have logged in and opened the game.
Valorant Player Count By The Months

Wondering whether Valorant is gaining or losing players? Our next table will show you what the stats say, and whether Valorant is growing or not.
| | | |
| --- | --- | --- |
| Month | Player Count | Gain/Loss% |
| January | 18,886,523 | // |
| February | 18,296,396 | -3.1% |
| March | 20,124,255 | +10% |
| April | 20,100,075 | -0.1% |
| May | 19,835,109 | -1.3% |
| June | 20,066,829 | +1.2% |
| July | 20,407,122 | +1.7% |
| August | 9,456,890 (5 days count) | // |
The metrics show that once something massive is launched, Valorant attracts a ton of new players, while if nothing is going on it's just slowly losing it. This metric tracks the number of players that entered the game, but not if they played a game or not. Currently, there's no way of seeing the number of "actual active players" or adding an "if" for a certain number of matches played in a month.
I'm gonna show this to anyone who asks me about Valorant's player base https://t.co/WyOXK2iD5t

— Hru (@HerosLife) August 4, 2023
March was the month that Gekko was released, and it sure caught the attention of a lot of people. March had a whopping 10% growth rate in Valorant's player base, and Episode 6 Act 2 is the one to blame for it.
Does CS:GO Have More Players Than Valorant

The numbers that we released are from a third-party API data-gathering website. Riot does not release any player count numbers, and these might be true... or not. So, to answer the question that we a lot of players are asking we will give you a brief three months data table below.

| | | |
| --- | --- | --- |
| Month | CS:GO | Valorant |
| May | 1,802,853 | 1,529,958 |
| June | 1,665,869 | 1,643,940 |
| July | 1,222,913 | 1,678,462 |
Based on our three-month data, Valorant has a stable number of players playing that seems to slowly increase. CS:GO on the other hand had a massive influx of players mostly due to the CS2 announcement, and their peak in May is bigger than the one in Valorant.
The hype about CS2 is still big, but not as big as in its announcement month. July CSGO had a peak average of about 1.2m whereas Valorant had 1.6m. So no, CS:GO doesn't have more players than Valorant. In the future, it's expected that Valorant's player base grows even more, as the game got released in China and is expected to take over the FPS market there.

For similar content: