Want to bounce your head a bit? Here are all official Spotify Playlists for each Valorant Agent!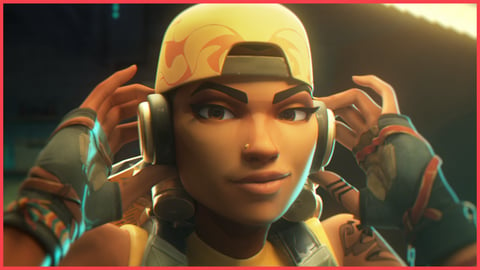 Curious what your main would have music taste like? Well, you can actually check it out! Valorant's official profile on Spotify has an individual music playlist for each Agent released. Here are all of them:
Fade Agent Spotify Playlist
Let's start with Fade's playlist full of Alternative music and Indie Turkish bands. This is probably the most niche playlist out there, as it's not the type of music that typical gamers listen to. Still, even though it's not a playlist to bounce your head to, you may recognize some artists there like Tricky (ex-Massive Attack) or Gazelle Twin.
Neon Agent Spotify Playlist
Neon's playlist is based on tracks with lyrics about being rich, expensive footwear, and generally living the high life. If we skip "Entertain Me" by Ylona Garcia, which was Neon's Cinematic song, it's actually all in the swag theme. We're a little surprised that the authors of this playlist haven't included a tune from Megan Thee Stallion or Nicki Minaj.
Chamber Agent Spotify Playlist
Chamber, on the other hand, has a taste for electronic music, especially French House (who would have thought). In addition to Daft Punk or Gesaffelstein, there are artists like Boys Noize, who are into really hardcore bass drops. The playlist also includes a song from Chamber's cinematic called "Orch Compression" by Chroma Music and Odd Banker.
KAY/O Agent Spotify Playlist
KAY/O is also into Electronic sounds, but he listens to more cyberpunk-ish music with faster BPM than Chamber. But well, what would you expect for a robot that's made for killing Radiants, right? Honestly, it's probably the best playlist for gaming out of all we have here.
Astra Agent Spotify Playlist
Astra is really into old-school type of rap – without any 808 kicks, drills, and swagging or nasty lyrics; it's very classy. We would consider this one a great playlist to chill and relax to, especially if you love these kinds of vibes.
Yoru Agent Spotify Playlist
Yoru's playlist is mostly rap music, but it also contains some local Japanese artist to honor his origin country. That said, it's really all over the place, but unlike Astra's playlist, it goes pretty hard and loud – mmaybe it could be a gym playlist.
Skye Agent Spotify Playlist
Skye has an ultimate chill playlist with all kinds of styles – Alternative Rock, Slow Pop, and Electronic Dance Music. If you have a diverse musical voice and want to relax, try using this playlist for that.
Breach Spotify Playlist
Moving on, another playlist that goes hard as it's basically Metal mixed with Dubstep (or even Glitchop). But if we had to sum up Breach's playlist in one word, we would use the word "heavy."
Raze Spotify Playlist
Raze is the only Agent to have two Spotify playlists – one that is basically rap music with lots of 808 kicks (Drake, Ty Dolla $ign) and one full of Brazilian music artists called "Only Good Songs".
Reyna Spotify Playlist
Reyna's playlist is mostly pop music with well-known female singers like Rihanna, Ariana Grande, Grimes and Halsey. There's also some Latin American accent with songs like "Yo Perro Solla" by Bad Bunny or "TKN" by ROSALIA x Travis Scott.
Jett Spotify Playlist
Jett's playlist is basically what Neon's tried to be – a modern rap about swagging. The playlist contains songs like "Chun-Li" by Nicki Minaj or "Comic Sans" by AUDREY NUNA and Jack Harlow so you know what is going on here. No wonder why Jett and Phoenix get along in the lore.
Phoenix Spotify Playlist
Speaking of Phoenix – another modern rap playlist with some classics like "Life is Good" by Future and Drake or "THE SCOTTS" by Travis Scott and Kid Cudi. Moreover, the playlist starts with a song by Stormzy who one of the top UK rappers, and that is probably the best pick considering Phoenix's origin country.
Sage Spotify Playlist
And this is a playlist that will sound the best during summer! It's full of catchy pop and EDM songs to vibe to – our personal picks are "Out of Order" by Highaskite and "Make Me Move" by Culture Code and Kara.
Sova Spotify Playlist
No, it's not a hardbass playlist! Sova has a playlist full of electronic bangers like "Mumbai Power" by Skrillex & BEAM or "Animal Rights" by deadmau5 & Wolfgang Gartner.
Cypher Spotify Playlist
Back to more chill playlists – here's something from Cypher. There are some Indie and Alternative tracks, but it's mostly made of slow lo-fi music that some of you surely listen while studying.
Killjoy Spotify Playlist
But some people prefer electronic music for learning (myself included) and here's where Killjoy's playlist fits perfectly in our opinion. It doesn't go as hard as you would think, so it won't distract you and those old synthesizers really stimulate your brain to work!
Omen Spotify Playlist
Omen is into pure OST from movies, so it's another niche playlist. You can't bounce your head to it, but when you tend to have moods for some emotional classic music from time to time you might want to save this playlist somewhere.
Viper Spotify Playlist
Viper is into emo punk music with bands like Paramore, Poppy or My Chemical Romance. Yeah, no Blink-182 or Green Day, but you know what's up. And looking at her hairstyle, no wonder.
Brimstone Spotify Playlist
Brimstone's playlist is basically guitars – The Strokes, Audioslave, Rage Against The Machine; you know, the classics from late 90s and early 00s. If you want to feel some nostalgia, make sure to check this one out.
So, these were all official Spotify playlists for all Valorant Agents released! Which one is your favorite? Make sure to let us know on our social media profiles like Instagram, TikTok, and Twitter!