Despite looking incredible, fans are increasingly annoyed at Riot's prices for premium skins, with Oni 2.0 being another example of prices going too high.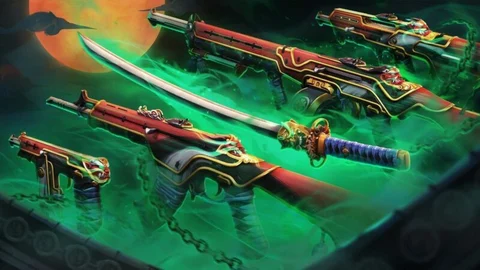 Episode 6 Act 2 brought plenty of content to Valorant, including the latest Agent 22, Gekko, and of course, a battle pass to grind with plenty of cosmetics to chase.
Of course, it also brought a new premium collection - the highly anticipated Oni 2.0 collection, the sequel to the iconic first skinline, now including a cosmetic for the Vandal and perhaps the most impressive-looking melee in the game - an actual katana.
Despite this addition, a very requested return of a fan-favorite collection, fans aren't happy with the pricing, with some even calling it "corporate greed" taking over Riot Games.
Valorant Fans Think Oni 2.0 Skins Are Too Expensive
In a Reddit threat that's been upvoted hundreds of times in the official Valorant subreddit, user mohaamedwaleedd shared how the game is basically "forcing" him to buy the bundle just to take advantage of an artificial discount.
The math is simple in mohaamedwaleedd's case - they just wanted to acquire the knife, which is a whooping 5,300VP. Since the entire bundle comes at 7,100 and includes four weapon skins, gun buddies, and more, makes sense to simply get the entire thing, right?
Well, it makes sense right, but what if you're not interested in the value the bundle provides?
I don't want an ares and a frenzy or a bulldog skin. I never use these weapons, I'm not buying any skins at all from this bundle. The more we agree to buy their overpriced shit the more they'll increase their prices. I am not gonna be a part of this scheme anymore.
It makes some kind of sense right? The price of the melee on its own is costly, and for a relatively small amount, you get a whole bag of goodies.
If you don't like them, sure, you can't opt out of them and get just what you want, but there's an inevitable feeling of feeling a bit ripped off that will most likely linger as you see your bank account take a hit just to look cool in a free-to-play videogame.
Another user called out the price of the katana:
Heard the katana is going to be 5350 like the champions melees, corporate greed is really starting to kick in
This has been an ongoing conversation for quite some while, stemming from last year when the Reaver 2.0 bundle ended up being more costly than the original skinline.

For more content: