Accidents can happen to everyone, sadly for Tyson "TenZ" Ngo he had a big slip-up during his scrim session with Sentinels vs FaZe Clan, streaming the match for a few minutes without noticing.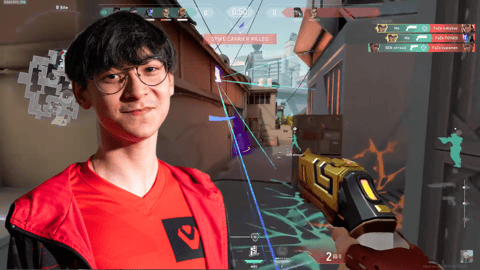 How did it happen? Well, as it turns out, TenZ wanted to record his POV for review later on, and he misclicked, booting up his stream without noticing for a few minutes. The Jett prodigy apologized for the incident via social media.
How come start stream button so close to record sry to the faze guys though didnt mean to leak any comps

— TenZ (@TenZOfficial) July 25, 2022
The scrim in question was a Sentinels vs FaZe Clan match. Both squads are gearing for the upcoming VCT Last Chance Qualifiers, looking for the final North American spot to compete at Valorant Champions.

It'll be a fierce competition with the likes of The Guard, Cloud9, or 100 Thieves also boot camping ahead of the event - with Sentinels falling down the pecking order in everyone's power rankings, a roster revamp was in order, bringing the CSGO legend turned millionaire streamer Michael "Shroud" Grzesiek and Version1's Jordan "Zellsis" Montemurro.
TenZ To Finally Play Chamber During The LCQ
Shroud, a known fragger himself, announced when he was signed that he would be filling as Sentinels' smokes player. Sure enough, from what fans could gather during the Split match between FaZe and Sentinels, the 28-year-old was playing Astra, confirming their initial statements.
More importantly, was TenZ's Agent pick - Chamber. For months, fans wondered why Sentinels was so reluctant of playing their duelist on a role that's taken over the Jett function almost entirely. Forgoing his Jett, Raze, and even Yoru play might be the key to the team's return to form.
In total, TenZ streamed three rounds, managing to pull off a nice 2k with Chamber's Headhunter on the initial round. The rest of the squad for Sentinels had ShahZaM on KAY/O, Zellsis on Raze, and Dapr on Fade.
For FaZe Clan, who will surely be unhappy with this TenZ mishap, their lineup looked like it's been for the past few months with Babybay, Supamen, Poised, Dicey, and Flyuh.

It remains to be seen if Riot Games will take any measures against TenZ or Sentinels as leaking scrims is frowned upon and could incur in severe penalties if done intentionally and maliciously.
For more content: