PROD, one of the most talented Valorant content creators on Twitch, was banned on July 24 for supposedly utilizing a slur during his stream.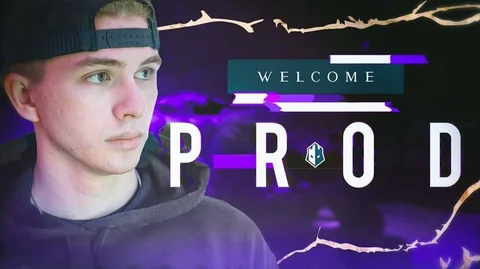 The reason for his ban was the alleged use of the word "f*ggot" during his last Twitch stream. Viewers were confused at first as PROD's broadcast was seemingly laggy, only for them to refresh the page and be greeted by a "this channel is unavailable" message.
PROD himself and his fans claim that the whole situation is a complete misunderstanding. Those who tuned in to the stream mention that due to PROD's way of speaking, which is unsurprisingly similar to the infamous "Valorant accent," the phrase "f*ck it" sounded like the homophobic slur, take a look at the clip down below and judge for yourself:
PROD took to Twitter to express his discomfort with the whole situation, simply calling it (and yes you guessed it) "cringe."
I'm ngl [not gonna lie] this twitch ban sh*t is to f*cking cringe
He later followed it up with a quick clip, clearly in jest, pleading Twitch to finally unban him.
Woke up still not unbanned @Twitch pic.twitter.com/ES6CkKjdBN

— PROD (@ProdCM_) July 25, 2022
Who is PROD?
PROD is a stellar Valorant player that's turned down the opportunity to become a professional player in favor of creating content and streaming.
He currently boasts a sizable following on YouTube with over 70k subscribers and 146k Twitter followers. Most importantly, he had upwards of 500k followers on Twitch, making him one of the most popular Valorant creators on the platform. His popularity grew so much that The Guard ended up signing him as a content creator.
We know how hit or miss Twitch is when it comes to banning people and the lack of communication that can become a growing pain for creators amid uncertainty - for a lot of big creators, being banned from streaming platforms means losing access to their biggest (and sometimes only) source of revenue.
At the moment Twitch has yet to issue any kind of statement. PROD hasn't made public the duration of his ban or even whether he knows himself how long he won't be able to stream on the platform.
For more content: