Paper Rex is getting ready for VCT 2023 Pacific League with a new addition to its Valorant roster — and it's Ilya "something" Petrov!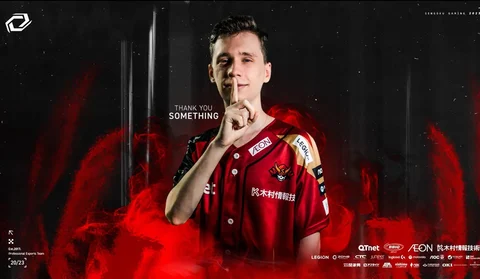 VCT 2023 Pacific League is about to start, and it seems that Paper Rex is preparing hard for it! They just added another player to their roster, and it's Ilya "something" Petrov who previously played for Sengoku Gaming in the VCT Challengers Japan League.
Paper Rex Adds Russian Prodigy "something" to Its Valorant Roster
For those who don't know who "something" is, this gentleman is considered one of the best players in the Japanese VCT Challengers League, where he recently set a new record for the most kills in a pro match. Moreover, his skills in the Duelist role are simply insane, and he became notorious after his adventure with Sengoku Gaming, which he represented for the past year with quite a bit of success.
We have something to show you. #WGAMING #pprxteam pic.twitter.com/jIykYDunJ9

— Paper Rex (@pprxteam) March 22, 2023
However, there's a catch; we don't know if he will play in the main roster or rather be on the bench as a substitute player. The matter is more difficult because Paper Rex has at least two players focusing on Duelists Agents, and "something" would already be 7th player in the roster. With that said, let's see how it looks like now:
| | | |
| --- | --- | --- |
| Nickname | Real Name | Role |
| Benkai | Benedict Tan | Player / IGL |
| mindfreak | Aaron Leonhart | Player |
| f0rsakeN | Jason Susanto | Player |
| Jinggg | Wang Jing Jie | Player |
| d4v41 | Khalish Rusyaidee | Player |
| something | Ilya Petrov | Player |
| CigaretteS | Patiphan Posri | Substitute Player |
It seems that Paper Rex feels a little pressure. We would like to remind you that this team made it to every international event in 2022, with achievements such as a top 2 placement at the VCT Masters Copenhagen, where they eventually lost to FunPlus Phoenix (current Natus Vincere roster). So yeah, they definitely want to re-prove themselves for this season and show off some amazing performance at the next VCT Masters in Tokyo.
And what do you think about Paper Rex's Valorant roster? Do you still consider it an underdog for the international scene, or rather a team to look up to? Let us know on our social media profiles (Facebook / Instagram), and let's chat about it!
Looking for more VCT 2023 content? There you go: