VCT 2023 EMEA League is around the corner, so let's provide you with some official streams, full schedules for every tournament week, and basically everything you need to know about it!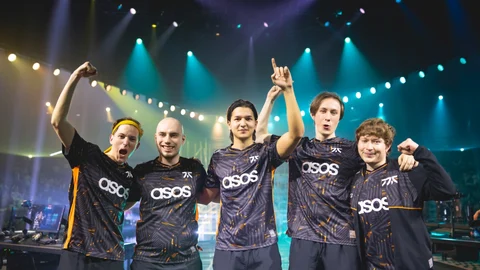 Alright, after the warm-up tournament, which is VCT LOCK//IN won by Fnatic, it's time for some true big boy eSports. Starting March 27, sixteen teams from the EMEA region will compete against each other for a total of 9 weeks for spots at the VCT Masters Tokyo and Valorant Champions tournaments. Let's get you prepared for it!

VCT 2023 EMEA League: Format Explained
The VCT 2023 EMEA League will be divided into two phases:
Round-robin (starting March 27 and running until May 19)
Playoffs with double-elimination bracket (starting May 22 and running until May 28)
The round-robin phase will be played in BO3, and it is to determine the top six teams with the best standings through the first 8 weeks of the league, and qualify them for Playoffs, where:
Top 4 teams qualify for VCT Masters Tokyo
Top 3 teams qualify for VCT Champions 2023
That said, the regional leagues are the most important part of the entire VCT 2023 season, as they determine all slots at the only major we'll have this year and the world championship tournament. Admittedly, there will be a Last Chance Qualifier later this year, and it will be a chance for teams that did poorly in their regional league to make it into Champions, but we don't know too much about it yet.
VCT 2023 EMEA League: Where To Watch
As always, the league will be streamed at the official Valorant Twitch.tv channel, which you can find below:
Additionally, Riot has also prepared be some official secondary streams in different languages, such as:

All streams will follow the same schedule, and while we're at it, let's look at the official VCT 2023 EMEA League schedule for all regular season matches!
VCT 2023 EMEA League: Full Match Schedule & Results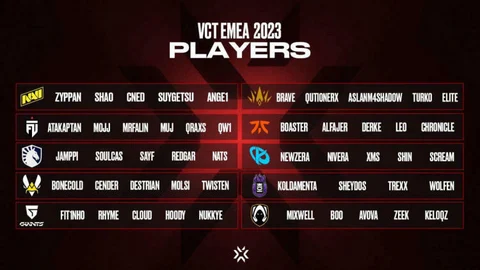 Matches in the VCT 2023 EMEA League will be played for 3 days per week, and these will be Wednesdays, Thursdays and Fridays, and each week will contain 5 matches. The exception will be the opening weekend, where we will get a total of 10 matches for 5 days in a row. Without further ado, let's check out a full match schedule, so if you are looking to cheer for your favorite team, grab your calendar and save those dates!
Week 1
| | |
| --- | --- |
| Match | Date |
| Fnatic vs. Giants | March 27, 06:00 PM CEST |
| KOI Esports vs. Natus Vincere | March 27, 09:00 PM CEST |
| Team Heretics vs. FUT Esports | March 28, 06:00 PM CEST |
| Team Liquid vs. Team Vitality | March 28, 09:00 PM CEST |
| Natus Vincere vs. Giants | March 29, 06:00 PM CEST |
| Karmine Corp vs. BBL Esports | March 29, 09:00 PM CEST |
| Team Liquid vs. FUT Esports | March 30, 06:00 PM CEST |
| KOI Esports vs. Team Vitality | March 30, 09:00 PM CEST |
| Fnatic vs. BBL Esports | March 31, 06:00 PM CEST |
| Team Heretics vs. Karmine Corp. | March 31, 09:00 PM CEST |
Week 2
| | |
| --- | --- |
| Match | Date |
| Team Vitality vs. FUT Esports | April 5, 09:00 PM CEST |
| Natus Vincere vs. BBL Esports | April 6, 06:00 PM CEST |
| Fnatic vs. Team Heretics | April 6, 09:00 PM CEST |
| Team Liquid vs. Karmine Corp. | April 7, 06:00 PM CEST |
| KOI Esports vs. Giants | April 7, 09:00 PM CEST |
Week 3
| | |
| --- | --- |
| Match | Date |
| Natus Vincere vs. Team Heretics | April 12, 09:00 PM CEST |
| KOI Esports vs. FUT Esports | April 13, 06:00 PM CEST |
| Team Liquid vs. Fnatic | April 13, 09:00 PM CEST |
| Giants vs. BBL Esports | April 14, 06:00 PM CEST |
| Team Vitality vs. Karmine Corp. | April 14, 09:00 PM CEST |
Week 4
| | |
| --- | --- |
| Match | Date |
| Team Heretics vs. Team Liquid | April 19, 09:00 PM CEST |
| KOI Esports vs. Fnatic | April 20, 06:00 PM CEST |
| FUT Esports vs. Giants | April 20, 09:00 PM CEST |
| Karmine Corp. vs. Natus Vincere | April 21, 06:00 PM CEST |
| BBL Esports vs. Team Vitality | April 21, 09:00 PM CEST |
Week 5
| | |
| --- | --- |
| Match | Date |
| Giants vs. Team Liquid | April 26, 09:00 PM CEST |
| BBL Esports vs. Team Heretic | April 27, 06:00 PM CEST |
| KOI Esports vs. Karmine Corp. | April 27, 09:00 PM CEST |
| FUT Esports vs. Fnatic | April 28, 06:00 PM CEST |
| Team Vitality vs. Natus Vincere | April 28, 09:00 PM CEST |
Week 6
| | |
| --- | --- |
| Match | Date |
| Team Vitality vs. Fnatic | May 3, 09:00 PM CEST |
| FUT Esports vs. Karmine Corp. | May 4, 06:00 PM CEST |
| KOI Esports vs. BBL Esports | May 4, 09:00 PM CEST |
| Natus Vincere vs. Team Liquid | May 5, 06:00 PM CEST |
| Giants vs. Team Heretics | May 5, 09:00 PM CEST |
Week 7
| | |
| --- | --- |
| Match | Date |
| Giants vs. Team Vitality | May 10, 09:00 PM CEST |
| FUT Esports vs. Natus Vincere | May 11, 06:00 PM CEST |
| Karmine Corp. vs. Fnatic | May 11, 09:00 PM CEST |
| Team Liquid vs. BBL Esports | May 12, 06:00 PM CEST |
| KOI Esports vs. Team Heretics | May 12, 09:00 PM CEST |
Week 8
| | |
| --- | --- |
| Match | Date |
| Fnatic vs. Natus Vincere | May 17, 09:00 PM CEST |
| Team Heretics vs. Team Vitality | May 18, 06:00 PM CEST |
| Karmine Corp. vs. Giants | May 18, 09:00 PM CEST |
| Team Liquid vs. KOI Esports | May 19, 06:00 PM CEST |
| BBL Esports vs. FUT Esports | May 19, 09:00 PM CEST |
Yeah, this is going to be hot! Moreover, we will also provide you results as the league goes on, so be sure to bookmark this article somewhere if VCT EMEA is your thing. You might also want to follow our Valorant Esports section here at Valorfeed, as well as our social media profiles (Facebook / Instagram) to stay up to date with everything related to this VCT season. And if you feel lost in this whole VCT franchising, you might want to check out our video where we briefly explain everything you can expect out of Valorant Esports in 2023:
Check out these EMEA rosters before the league starts: