Team Vitality is a fresh roster with immense potential, but it is still considered an underdog compared to other top teams in the VCT 2023 circuit.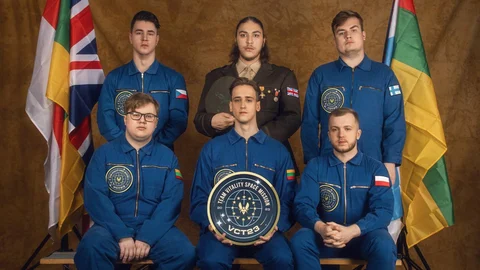 Team Vitality is the newest addition to the VCT scene through Valorant Franchising, with a roster made up of both fresh faces and experienced players. Although most of them come from smaller organizations and don't have much experience, the team's potential is undeniable, and they have already proved they can hang with the best. So, let's see who these gentlemen are and where are they coming from exactly!
Team Vitality VCT 2023 Roster
| | | | | |
| --- | --- | --- | --- | --- |
| Nickname | Real Name | Role | Nationality | VCT 2022 Team |
| BONECOLD | Santeri Sassi | Player | Finnish | Acend |
| MOLSI | Michał Łącki | Player | Polish | OG LDN UTD |
| ceNder | Jokūbas Labutis | Player | Lithuanian | Team Vitality |
| Destrian | Tomas Linikas | Player | Lithuanian | OG LDN UTD |
| Twisten | Karel Ašenbrener | Player | Czech | BIG |
| Salah | Salah Barakat | Head Coach | British | OG LDN UTD |
| Gorilla | Harry Mepham | Assistant Coach | British | FunPlus Phoenix / Team Vitality |
| Strong | Joe Edwards | Positional Coach | British | OG LDN UTD |
As you can see, Team Vitality consists of mostly fresh blood and inexperienced players who are just starting on the VCT scene. It's a kind of team with a big "question mark", as they can both win and lose everything. OG LDN UTD, which forms most of the roster, was an underdog team in VCT 2022 but still had some success and won a few important matches in VCT Challengers EMEA in an excellent fashion. All in all, even though we don't expect them to win majors, we think that the roster has the potential to surprise, and it should not be underestimated. One interesting addition to this team is Santeri "BONECOLD" Sassi from the legendary Acend roster, the one that won the first Valorant World Championships, which also adds a bit of power and hope to this roster.
Lastly, here's what Fabien "Neo" Devide, a co-founder and eSports director for Team Vitality said about his expectations for this roster:
Whilst we have already begun proving our strength in VALORANT, when we were given the opportunity to join the VCT European League, we knew we had to create a robust and carefully curated team that would make us a serious contender for the best team in Europe. We're incredibly proud of the roster we've created, and we cannot wait to see how far they go next year (source)
And what do you think about Team Vitality? Do you think they have good odds to become a dark horse of VCT 2023? Join us on our social media profiles (Facebook / Instagram) and let's chat about it!
More VCT 2023 rosters: