Ever since its release, Valorant skin collections have always been treated as a premium commodity, but it seems Riot is taking it too far.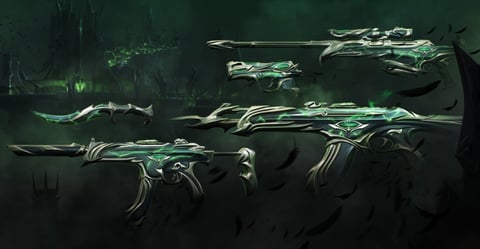 It's no surprise to anyone that Valorant skin collections tend to be pricey, even the cheaper ones that lack features such as variants or special effects cost around $10 per skin.
It seems, however, fans are starting to get fed up with the skin prices as of late, criticizing Riot Games for "silently increasing" bundles over the past few months.
Are Valorant Skin Collections More Expensive?
A post on the official Valorant subreddit has garnered a ton of attention with almost 2.0k upvotes as of the time of writing. In it, user Juansa7X compares the prices of two bundles, the Crimsonbeast and Soulstrife, with the original and now iconic Reaver collection from the 2020.
Both lack variants and sound effects, they only have 1 shitty kill animation and that's it
The important thing to note is that they all cost a total of 7100 VP for the entire bundle (1775 VP for individual gun skins), with Reaver including plenty more upgrades, like equip and reload animations, kill animations, and a finisher, making it truly the complete package.
The Reaver 2.0 collection maintained the price of the original with a single exception, the Melee weapon this time around, a Karambit, costs 800 VP more than the first version of the original 2020 iteration.
In all honesty, it seems that, while Riot isn't necessarily slowly raising the prices of skins, people are the ones slowly getting angry at the thought of dealing with overpriced cosmetics. There's also the matter that there are no real stipulations to what makes a skin cost 1775 VP.

For example, while Reaver and Ion featured plenty of bells and whistles, the Undercity collection costs exactly the same and comes with absolutely no upgrades. In fact, the guns themselves are just a lazy reskin of the acclaimed Glitchpop style. Why are they all categorized as Premium skins is a mystery to us all.
Do you think skins are overpriced in Valorant?
For more content: