A new collection is right around the corner, featuring skins for the Phantom and a new melee weapon.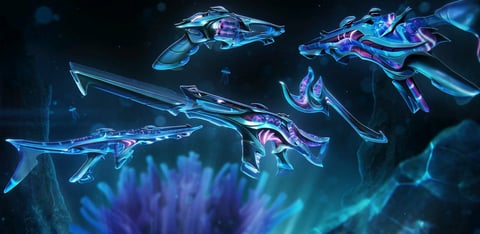 It really seems someone at Riot Games is in love with water-themed weapons, as a new collection will soon hit the in-game Valorant store - the Abyssal bundle.
Similar to guns such as Neptune, the Abyssal collection seems to draw power from the seven seas and get it into the hands of eager players looking to expand their cosmetic collections.
So, let's get right into everything you need to know about the Abyssal collection.
Abyssal Valorant Bundle - Release Date & Skins
At the moment, we don't have information about a possible release date. We'll update this when it becomes official. We do know that it'll replace the current skin collection in the featured section of the in-game shop, so if you're interested in snagging one or the entire bundle, be sure to do so before the store refreshes.
The skins, which you can see in the image above, are for the following weapons:
Phantom
Sheriff
Guardian
Spectre
Axe Melee
According to reliable insider/leaker, ValorLeaks, the collection will feature no upgrades or skin variants.

Abyssal Valorant Bundle - Cost
Once again, this information comes via ValorLeaks, who states that the Abyssal weapon collection will have the following costs:
Skin price: 1275
Melee price: 2550
Bundle price: 5100
Abyssal Bundle | #VALORANT

Includes a Phantom, Sheriff, Spectre, Guardian, and Axe.

Skin Price: 1275
Melee Price: 2550
BUNDLE PRICE: 5100 pic.twitter.com/7C6sGuoItP

— Mike | Valorant Leaks & News (@ValorLeaks) November 15, 2022
As you can see, the Abyssal bundle is not the most expensive bundle out there, with the lack of extra bells and whistles to bump up the price. We still don't know if the bundle will also feature things like Gun Buddies and Player Cards, so keep that in mind.
As always, we'll update you as more information comes out.
For more content: