The French organization will look to take the Valorant esports community by storm with a strong initial roster to compete at VCT 2023.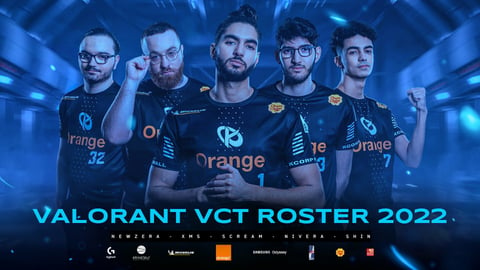 While Karmine Corp didn't compete consistently in the past two years, the French organization has secured an absolute star-studded team to make waves in the upcoming VCT 2023 playing in the EMEA League.
Undoubtedly the biggest signings are that of former Team Liquid players and brothers Adil "ScreaM" Benrlitom and Nabil "Nivera" Benrlitom. The full roster announcement was shared via social media.
Echec et mat.

Souhaitez la bienvenue a notre roster #VCT pour la saison 2022-23 :

BE @ScreaM_ (C)
BE @Nivera__
FR @xms51
FR @shinVALORANT
FR @Newzeraaa

FR @pmleek (Coach)
FR @ZE1SHH (Assistant Coach)

Video presentee par @SamsungFR #KCORP #KCORPWIN pic.twitter.com/Df34VI0luG

— Karmine Corp (@KarmineCorp) November 11, 2022
As an organization, Karmine Corp has only played in a single tournament, the VRL 2022 France: Revolution Stage 2, in which they ended with a 4th place finish. From the roster that participated in that event, they have retained Alexis "Newzera" Humbert and Ryad "Shin" Ensaad.
On top of ScreaM and Nivera, KCorp confirmed their five-man roster with the addition of former Mad Lions player Alexandre "xms" Forté.
Out of the entire roster, both ScreaM and Nivera are the ones that bring the most experience within the squad, having played in several international offline events. Most notably, they led Liquid to a fourth-place finish at Valorant Champions in 2021 and decent outings during Masters Reykjavík and Champions 2022.
Despite their achievements, both were often deemed as underperformers alongside the rest of their squad, who failed to meet expectations as EMEA kings, letting squads like Fnatic, FunPlus Phoenix, Acend, and Gambit/M3C become more prominent.

Still, fans shouldn't underestimate the squad Karmine Corp has put together to compete against the likes of Fnatic, Team Liquid, Team Vitality, Heretics, and more as they look to assert the dominance of the VCT EMEA League first, and the whole Valorant community as a whole.
As always, stick around ValorFeed to keep up with all the results of Karmine Corp heading into the Valorant Champions Tour in 2023.
For more content: