After failing to secure a spot in the upcoming franchised VCT system, FPX has said goodbye to its Valorant division, releasing its entire roster.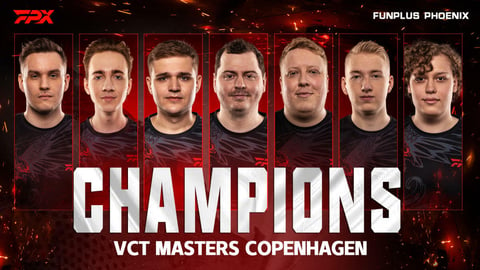 Sad day for European Valorant fans, as FunPlus Phoenix has decided to release its entire roster after failing to secure a spot for the upcoming franchising system of VCT in 2023.
The news broke on November 7, with an announcement via social media thanking both the roster and fans for joining FPX in their Valorant journey, which it seems has come to a definitive end unless they decide to restructure the entire squad from the ground up.
After years of thrilling and splendid adventure,
today we bid farewell to our glorious Valorant squad.

ANGE1, ardiis, Shao, suygetsu, Zyppan and d00mbr0s, thank you for everything you've brought to FPX.
We wish all of you the best of luck in your future endeavors pic.twitter.com/3C1lLlZLrW

— FPX (@FPX_Esports) November 7, 2022
In a follow-up tweet, FPX stated:
From the unknown to being the best in EMEA, we went through a long way and conquered numerous obstacles to get to where we are today.

The legacy, the spirits, the dedication, and all the incredible milestones you have accomplished under our banner will never be forgotten.
The members of the roster that are being released are:
Ardis "Ardiis" Svarenieks
Dmitry "SUYGETSU" Ilyushin
Pontus "Zyppan" Eek
Andrey "Shao" Kiprsky
Kyrylo "ANGE1" Karasov
2022 was a fantastic year for FPX marred by external factors that prevented the team from reaching its full potential. Qualifying with relative ease for both Masters event, the squad was unable to take part in the first one in Reykjavík due to traveling restrictions amid the Ukraine-Russia conflict.
When they were able to fly to Copenhagen for Masters 2 they won the event beating the likes of Fnatic, Paper Rex, OpTic Gaming, and DRX in the process. At Valorant Champions, FPX ended up placing 4th, losing to DRX in the lower bracket semifinals.
We're sad to see such a good team disband but we're also hopeful most of the players and coaching staff will find a new team sooner rather than later.
For more content: