The EMEA representative edged out North America's Shopify Rebellion in an insane five-map series to become the first-ever Game Changers Championship winners.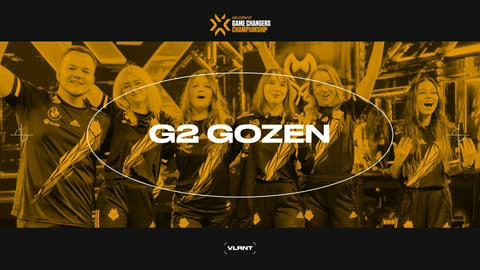 The Valorant Champions Tour Game Changers Championship was a fantastic international event that pitted the best GC squads in the entire world for the first time in an offline competition, with the grand finals delivering an exciting five-map thriller that ended with EMEA's G2 Ozen coming out on top against North America's Shopify Rebellion.
The finals were somewhat marred by controversies, as a perceived overreaction from Riot Games led to Shopify Rebellion's head coach, rob-wiz, to miss out on the final match. Still, it seemed SR didn't resent not having him around, at least early on.
While Shopify Rebellion ended up winning the first two maps, Pearl and Bind, they were relatively close affairs, 13-9 total, with Chamber specialist Kayla "flowerful" Horton taking over the server, racking up 37 kills, 6 assists, including 7 First Kills.
Despite the initial rush of confidence, something clicked within the G2 Ozen squad, and proceeded to pull the most dominant reverse sweep we've seen in Valorant esports thus far.

Winning only 10 rounds, not even enough to take a single map if we combine them, Shopify Rebellion was outshone at every interaction by G2, who won Ascent 13-3, Icebox 13-2, and Breeze 13-5 to be crowned the first-ever VCT Game Changers Championship winners.
REVERSE SWEEP COMPLETE! @G2esports #VCTGameChangers pic.twitter.com/cnwwvy4hOv

— VALORANT Champions Tour (@ValorantEsports) November 20, 2022
The great comeback was led by excellent team play and overall better team compositions that gave G2 Ozen the upper hand even before the first pistol round was even played, especially on Icebox where G2 managed to be more aggressive thanks to their Fade and Raze picks over the more cautious Sova and KAY/O combo from Shopify Rebellion.
We can't wait to see what Game Changers looks like next season. Congratulations to G2 Ozen!
For more content: