After winning against Cloud9 White, coach rob-wiz was overwhelmed with emotion, showing the middle finger to his opposition. Thus, Riot banned him from the grand finals match.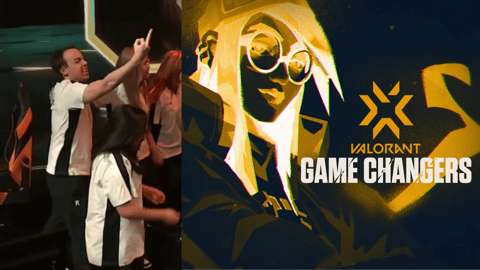 The stress of competition more often than not leads to tense situations where emotions are running high and can sometimes overwhelm competitors, sadly, this has cost Shopify Rebellion's head coach the opportunity to help his team during the VCT Game Changers Championship grand finals against G2 Ozen.
During the lower bracket semifinal between Shopify and Cloud9 White, SR's head coach Rob "rob-wiz" Kennedy showed the middle finger to the opposite team as they managed to secure a well-earned victory against a team that's been a thorn in their side during the year, losing the Game Changers North America Series #1, #2, and #3 to them winning a single map in those matches.
It was a somewhat natural and, to a degree, understandable reaction. Throughout the year, Shopify Rebellion had the short end of the stick during the usual trash talk and banter that comes with being a competitor at the highest level, and as things escalated, rob-wiz had an "unsportsmanlike" reaction that, according to Riot Games, is worthy of being sidelined from the grand finals.
In a statement via social media posted on the Valorant Esports Twitter account, it was confirmed that rob-wiz's offensive gesture breached rule 7.1.2 of the Global Competition Policy, being awarded a suspension from his next match (the GC Championship grand finals) and a fine for his actions.

A competitive ruling has been issued against Rob "Robwiz" Kennedy. #VCTGameChangers pic.twitter.com/XxWpsgTWOy

— VALORANT Champions Tour (@ValorantEsports) November 20, 2022
After the decision, rob-wiz took to Twitter to apologize to Shopify Rebellion's fans as well as confirm that assistant coach FIN will take the lead during the grand finals.
Sucks having to miss the grand finals with my team, worked so hard with them to get here. @FIN_fps will be taking my spot on stage today. He works with us every day and is incredible at what he does so nothing changes for our players. Sorry to anyone I have disappointed.
The ban was met with almost universal criticism. From pro players to analysts and fans alike, everyone agreed that the decision to separate a head coach from his team during the most important match of their careers for simply flipping a finger at someone is a complete overreaction. And we have to say, we absolutely agree with the community sentiment on this one.

In fact, SR player Benita Novshadian hit back, explaining that her team has been the subject of plenty of heavy trash talk both in (via text chat) and out of the game for months with no consequences.
Just wanna state that we've been getting shit talked for months ingame (they type in all chat) and out of game. 2 gamechangers of getting pummeled with unsportsmanlike behavior. All good.

— SR bENITA (@benitanov) November 20, 2022
For more content: