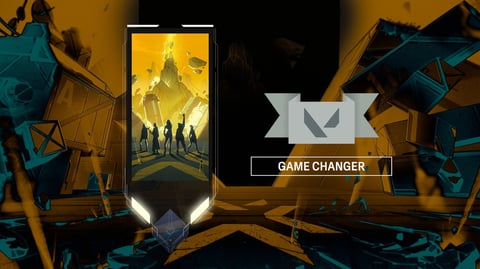 Valorant Game Changers is here and with it, plenty of amazing high-level action for players to watch and enjoy via YouTube and Twitch.
Of course, if that isn't incentive enough to tune in to the Championship being held in Berlin, Riot Games made sure those compulsive collectors stick around for a few matches, with unique and exclusive cosmetics up for grabs - totally free!
How To Get Game Changers Championship 2022 Free Rewards
There is only one requirement to get all the free goodies Riot is offering - tune in to Valorant Game Changers! You'll have to do so in the following dates for each individual reward:

Game Changer Title: Watch a live game between Nov 15 - 19
Game Changers Championship Card: Watch a live game on Finals day on Nov 20.
We have a great article breaking down the full schedule so you don't miss out on anything right here. You can get drops via Twitch or YouTube, we'll show you how to link both accounts.

How To Link Your Twitch Account To Riot
To link your Twitch and Riot accounts and get the rewards, follow the steps down below:

Head over to Twitch.tv
Click on Settings and locate the Connections tab
Find the Riot Games button and login with your username and password
How To Link Your YouTube Account To Riot
For YouTube, follow the steps down below:

Sign in to your YouTube account.
Go to your Account and select Settings.
Under Connected Accounts, find Riot Games (that's us!)
Click Connect for the type of account you'd like to connect.
If you don't already have an account, don't worry. Head on over here to make one

Sign in to your Riot Account.
And that's it! We hope you enjoy your free cosmetics!
For more content: