Ever wanted an Elderflame skin but without spending the ridiculous amount of money they cost? Now you can! Kind of, with the Crimsonbeast bundle.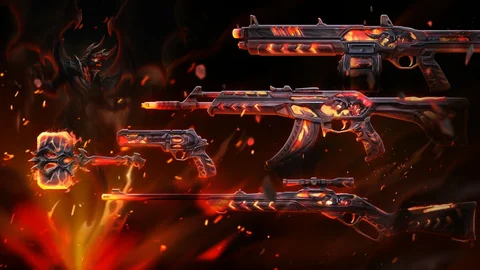 It's time for another Valorant bundle! This time, players who enjoy the Elderflame aesthetic but don't want to spend big or haven't had the luck of getting them in their in-game shop can get their hands on the Crimsonbeast collection.
Revealed by Riot on October 4, the skinline features some fiery designs, inspired by the scorching flames from which a demonic figure rises from its ashes. It would fit perfectly in the League of Legends world is all we're saying.
Enough talk, time to look at everything you need to know about the Crimsonbeast bundle.
Crimsonbeast Bundle - Release Date and Skins
Crimsonbeast Vandal | #VALORANT pic.twitter.com/u79NHNZvjX

— Mike | Valorant Leaks & Info (@ValorLeaks) October 4, 2022
The Crimsonbeast collection will come to the Valorant in-game shop on October 5. It will replace the ChronoVoid collection, taking over the featured section of the shop for the next few weeks. Once it's gone, your only chance will be to get individual skins during the daily rotation.
The skins available in the bundle are:
Crimsonbeast Marshall
Crimsonbeast Judge
Crimsonbeast Sheriff
Crimsonbeast Vandal
On top of that, it'll come with a Crimsonbeast-themed Melee weapon.
Crimsonbeast Hammer | #VALORANT pic.twitter.com/2G68x1lg5e

— Mike | Valorant Leaks & Info (@ValorLeaks) October 4, 2022
According to the reliable ValorLeaks, the guns won't have any Chroma or Variant skins, meaning less room for customization - so what about the price?
Crimsonbeast Bundle - Cost
The skins are part of the Premium tier of skins in Valorant, while not reaching the heights of the Ultra Edition Elderflame bundle, it'll cost more than your run-of-the-mill cosmetics. Expect the skins to cost around 1775VP, once we get more information, we'll update this section accordingly.
And that's it! Will you be copping this new bundle?
For more content: