After leaks revealed a beta-only weapon collection would return with a refreshed design, Riot finally revealed it alongside a new name - ChronoVoid.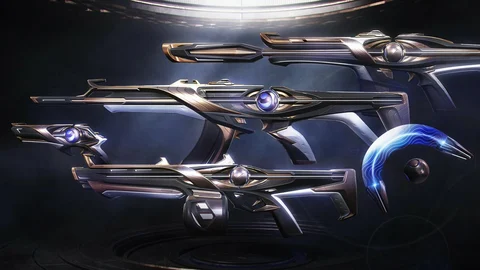 The infamous Daedalus collection has been given a second chance at life with a fresh coat of paint thanks to Riot Games, who will be releasing the now-called ChronoVoid bundle for all players to get their hands on.
Once called an "ugly" mess by the developers themselves, the ChronoVoid collection features very little of the original design's aesthetic - all or the better, since Riot invested heavily into making ChronoVoid look absolutely stunning and features animations for just about everything you can imagine in Valorant.
ChronoVoid Bundle - Release Date and Skins
The ChronoVoid bundle will be available on September 21 replacing both the Valorant Champions 2022 bundle and the Kohaku & Matsuba collection. It will be in the featured section of the in-game Valorant shop for the coming weeks. Once it's gone, your only chance will be to get individual skins during the daily rotation.

The skins available in the bundle are:
ChronoVoid Judge
ChronoVoid Phantom
ChronoVoid Sheriff
ChronoVoid Vandal
The skins come with four color variants and other neat stuff, including idle, equip, reload, and inspect animations.
You'll have to pay a pretty penny for this collection. In line with other high-end Valorant cosmetic, this is also branded as Premium-tier cosmetics, costing a total of 8,700 Valorant Points (VP) for the entire collection. Once we have individual prices we'll be sure to update this section.
The bundle also comes with a Gun Buddy, a Spray, and a Player Card which you can see down below via ValorLeaks.
ChronoVoid Bundle Items | #VALORANT

> ChronoVoid Buddy
> ChronoVoid Playercard
> ChronoVoid Maze Spray pic.twitter.com/fC2PlzkWcu

— Mike | Valorant Leaks & Info (@ValorLeaks) September 19, 2022
So that's all you need to know? Will you be copping this new amazing skinline?
For more content: