A brand-new skinline has been confirmed and we got everything you need to know so far about the Japanese-styled bundle.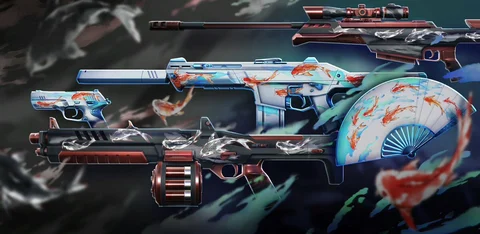 Valorant cosmetic lovers rejoice! As Riot Games has officially revealed the latest bundle that will hit the stores sooner than you think - the Kohaku & Matsuba collection.
The skinline clearly draws from Japanese and Asian culture once again, like the iconic Oni skins or even the Celestial collection. In fact, the Melee is eerily similar to the one found in the Celestial bundle, being a reskinned traditional handmade paper fan.

Let's take a look at everything you need to know about the bundle.
Kohaku & Matsuba Collection - All skins

In total, four gun skins will come with the bundle as well as a Melee weapon. These are:
Classic
Judge
Phantom
Operator
Thanks to reliable insider ValorLeaks, you can take a look at all skin variants in the picture above.
Kohaku & Matsuba Collection - Release Date
The bundle will go live on the Valorant in-game shop on September 8. It will replace the Valorant Champions 2022 bundle, which is one that will not return to the store ever, so if you wanted to get your hands on it, it's now or never.
It'll likely stay in the featured section of the Valorant shop for the next few weeks before a new bundle takes its place.
Kohaku & Matsuba Collection - Cost
So far we have no information regarding how much VP the collection will cost. By the looks of it and considering no special gun animations have been showcased, we predict it will be part of the cosmetics categorizes a tier or two below the true premium bundles.
Of course, we'll update this section once we have all details.
For more content: