We got our first look at the previously leaked codename Haunted skins for Valorant, with Soulstrife a much more apt name for them!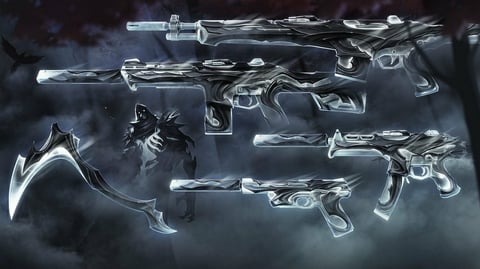 It's time for a new Valorant skin bundle! We talked about a previously leaked collection, under the codename Haunted. No actual designs were shared, however, but that all changed on October 31, when we got our first look at the Soulstrife collection.
It seems the internal name for the bundle was very accurate as these designs seem like something straight out of Omen's personal arsenal filled with a gloomy aesthetic and an incredible melee that looks like the reaper's scythe.
Let's get down to it and tell you everything you need to know about the Soulstrife collection.
Valorant Soulstrife Bundle - All Skins & Release Date
There will be a total of four skins that will receive the Soulstrife treatment. To top it all off, a melee weapon themed as a scythe will also be up for grabs. The guns selected are:

Soulstrife Bundle Showcase | #VALORANT

> Spectre, Ghost, Guardian, Phantom, and Scythe pic.twitter.com/wG17gtbcui

— Mike | ValorLeaks (@ValorLeaks) November 1, 2022
Phantom
Guardian
Spectre
Ghost
Scythe Melee
These guns will be available on November 2 and will replace the current bundle available on the store, which is the Ion 2.0 collection. So if you want to grab it or at least one of the skins, this is your last chance before you have to rely on RNG.
Valorant Soulstrife Bundle - Cost
On top of the weapons, the bundle also comes with a Spray and Player Card. The costs are as follows:
Soulstrife Card | #VALORANT pic.twitter.com/kQNI0T9F3q

— Mike | ValorLeaks (@ValorLeaks) November 1, 2022
1775 VP per weapon
3550 VP for the Melee skin
7100 VP for the complete bundle
And there you have it! Will you be adding these ones to your collection of amazing cosmetics?
For more content: