The creator of a fan-made Ion Vandal might've been teasing us all along, as a new official collection featuring the rifle has been leaked.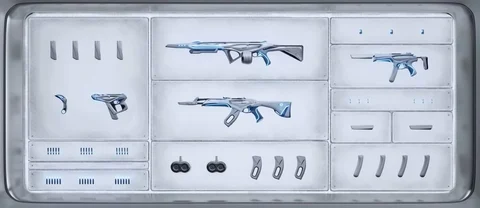 Coincidence or not, soon after an incredible-looking fanmade Ion Vandal was released into the world, the real deal got leaked. That's right, Ion 2.0 is actually happening and it's giving the famous rifle the futuristic treatment guns like the Phantom and Operator already had.
The Ion collection was originally released in November 2020, quickly garnering a devoted fanbase that still believes it's the best collection in the game. Sadly for Vandal users, that original skinline didn't include a cosmetic for their weapon of choice.
Now Riot Games seems poised or mending their mistakes by giving not only Vandal users, but also Spectre, Guardian, and Frenzy enthusiasts the chance to harness the power of the clean-looking sci-fi inspired weaponry.
The leaked image, which you can see above, comes to us via the reliable ValorLeaks. If they mention it, the chances of it being true are probably 200%!
New Bundle: Ion 2.0 | #VALORANT

Includes: Vandal, Ares, Spectre, Frenzy, and Karambit pic.twitter.com/gob2JWP9xK

— Mike | Valorant Leaks & Info (@ValorLeaks) October 13, 2022
Valorant Ion 2.0 Release Date & Price
Naturally, we don't have a lot of information regarding the collection, but that won't stop us from speculating a little bit. We can assume the Ion 2.0 bundle could release on October 18, ready to coincide with the launch of Episode 5 Act 3, and of course, Agent 21, Harbor.
As for the price, the previous Ion collection was a Premium tier collection, coming in at 7100 Valorant Points (VP) for all the cosmetics. Expect similar pricing for Ion 2.0, if not a bit more, depending on what extra goodies it'll come with.
In any case, stay tuned to ValorFeed for everything related to Ion 2.0 in the coming weeks!
For more content: