Today we'll discuss the rank tier that makes you a certified above-average player, and it's called Gold!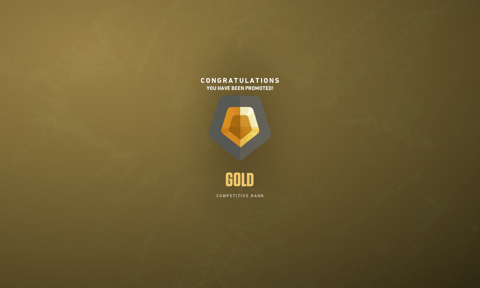 If you made it out of the ultimate ELO hell called Silver, then you are assigned a Gold rank, which officially makes you an above-average player. This rank tier contains 21.1% of the entire player base with the following distribution:
| | | |
| --- | --- | --- |
| Rank | Top % of all players | % of players in this rank |
| Gold 1 | 52.7% | 7.7% |
| Gold 2 | 45% | 6.9% |
| Gold 3 | 38.1% | 6.5% |
So yeah, you are basically around the top 50% of the entire player base, which means that statistically, you should win 3 out of 4 duels in Valorant. Honestly, from our experience, this was the hardest rank to get but the easiest to climb in.
How Good is Gold Rank in Valorant?
We'd say that Gold is a fairly good rank to have. It basically means being better than 75% of the player base, and that's quite an achievement, especially for a casual player. At the Gold tier you'd see more players actually tryharding and choosing the metagame Agents.
That said, if you won't tryhard and perform, you might not stay in this rank too long. And if you will, we think that getting to Platinum is just a matter of time, as Gold is super easy to get out from. It's also worth mentioning that you get some pretty high RR gains in this rank tier (about +25 RR per win). Therefore, winning 4 games in a row basically equals a rank-up, and that's just so easy to do.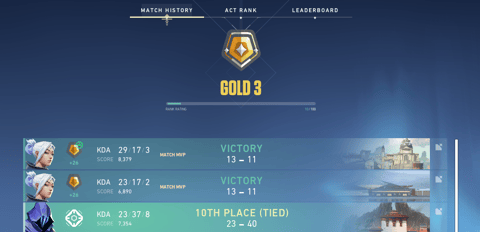 To sum up; everything at Gold is just above average – aim skills, movement, the understanding of the economy and game mechanics, everything. If you got it as your first rank, it bodes quite well for your future in the Valorant ranked ladder.
How Many Hours Do You Need To Achieve Gold?
If you have played FPS games like Counter-Strike before, you should easily earn this rank in less than 500 hours, maybe even 200. Moreover, CS veterans will surely get it as their first rank after less than 20 hours of playing. However, if you are new to shooters, then well, considering how hard it is to get out of Silver, 500 hours+ will probably be your time.
Ways To Improve from Gold in Valorant
Stay up to date with the metagame. As we've said, Gold is a rank full of tryhards, so if you want to get out of it, you need to tryhard the most out of all players there. You need to follow the metagame, know the most popular strategies, and all that kind of stuff. That said, be sure to follow the most important eSports events and watch Valorant streams, as these are the two factors that really dictate how the metagame looks.
Learn the lineups for your main Agent. Now that you know what the metagame is all about, you should prioritize practicing the lineups that counter the most popular strategies. And if your main Agent can't offer much in the current metagame, you might want to consider switching your main if you want to climb.
Make sure that your gear is on point. Your PC, mouse, keyboard, microphone, internet connection, even your in-game settings need to provide you a high-quality experience. There is no place for lags. For that, you might want to get inspired by some of the pro players, like TenZ: TenZ Settings & Hardware (2022)
Lower your ego. Lots of players that reach the rank of Gold suddenly start to have a much higher ego and a burst of self-confidence. That isn't a bad thing necessarily, but a really high ego can sway you of actual gameplay, ruin your expectations of matches, and ultimately make you angry and tilted. So if you lower your expectations and avoid tilting, you'll become calmer and start to focus more on what's going on in a match, ultimately landing you more wins.