Certain popular skin lines like Ion don't feature cosmetics for iconic Valorant guns like the Vandal and this concept art really makes us wish that wasn't the case.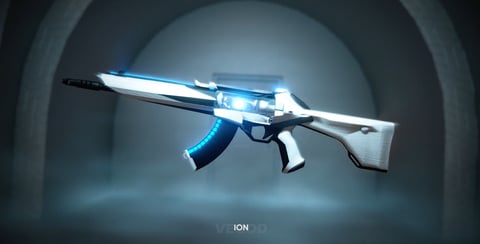 UPDATE: Believe or not, soon after this fanmade Vandal, the REAL Ion 2.0 collection leaked and it does feature a Vandal! Check it out right here.

Original story:
Valorant skins have garnered a fanbase of their own. Some are dedicated collectors that perhaps are not that into the meta, getting a good rank in competitive, or even playing the more casual modes like Spike Rush or Unrated.
They are simply in it to watch their collection of amazing, expensive, and jealousy-inducing cosmetics grow and grow, getting their hands on the coolest skins Riot Games has to offer.
Whatever the case, it's clear some collections are desired more than others, and the Ion cosmetics definitely fall under that category. While they don't reach the cost of Exclusive or Ultra edition skins, the slick, futuristic design of the guns has appealed to thousands of players, except a few - Vandal users.
Despite its popularity, Ion doesn't feature a Vandal skin. There are plenty of skins collections that ditch either the Phantom or the Vandal (sometimes both, astonishingly) - when this happens, a revisioned 2.0 bundle covers the missing gun. Think Glitchpop or Prime. However, Ion, like Oni, is an exclusive luxury Phantom users can brag about over Vandal enthusiasts.

One very talented Valorant fan sought to mend this mistake made by Riot, providing fans with a very impressive-looking fan trailer of what an Ion Vandal could look like.

Introducing Ion Vandal // Skin Reveal Trailer#VALORANT pic.twitter.com/6UVJ1CVVqy

— Vegod (@TNAVegod) October 5, 2022
Content creator Vegod mixed bits and pieces from the original Ion trailer, trying to highlight their original Ion Vandal design. Safe to say, it's an impeccable piece of work.
Is an Ion Vandal something you wish for? Or are you more of an Oni person yourself? Regardless, we think a new Ion collection is bound to happen and a matter of when, not if.
For more content: