According to reliable reports, Overwatch League legend Carpe is set to put an end to his six-year career on Blizzard's FPS to try a new adventure.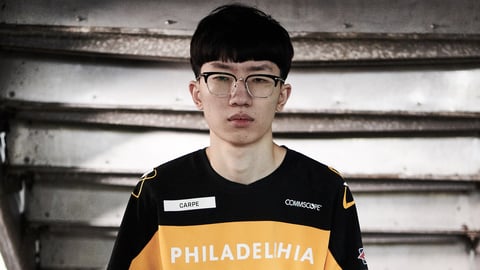 Back when Valorant esports was still forming, Overwatch pro players making the switch to Riot's shiny new tactical shooter was a common occurrence. We all know the controversial story of former Overwatch League Champion and MVP Jay "Sinatraa" Won, but others such as Andrej "babybay" Francisty, Corey Nigra, Ha "Sayaplayer" Jung-woo, Patiphan "Patiphan" Chaiwong (who actually "retired" from Valorant to make a highly anticipated return to Overwatch... only to retire for a second time and go back to Riot's shooter), just to name a few.
Now, a new name could join the tactical shooter esports scene and is none other than Philadelphia Fusion's Lee "Carpe" Jae-hyeok. The information comes via Blix.gg, who reports that the 24-year-old will be T1's fifth member for the VCT APAC 2023 season.
Philadelphia Fusion is Comcast's OWL franchise. The American company SK Telecom's partner in their joint esports venture T1, which would make the transition for Carpe that much smoother. The esports org also has a team competing in Overwatch Contenders APAC, the game's second tier circuit.
Carpe's career in Overwatch has been filled with more lows than highs despite his undeniable status as one of the game's all-time greats. His best achievements include winning the Overwatch World Cup with South Korea in 2018 and being the first player in OWL history to reach 4,000 Final Blows. Sadly, despite being an MVP-nominated DPS player, his constant second places haven't allowed him to cement his name as the Overwatch GOAT.
To name a few, he finished runner-up in Contenders Season 1 North America in 2017, OWL Grand Finals in 2018, the Countdown Cup and Summer Showdown in 2020, and the Kickoff Clash in 2022.
If he does make the switch to T1, he'll reunite with former Overwatch pros Byeon "Munchkin" Sang-beom and Ha "Sayaplayer" Jung-woo.

For more content: