BLG is one of the Chinese teams that managed to win at the first China qualifier for Champions and leave a mark for themselves this year. This is their roster and you need to know about them!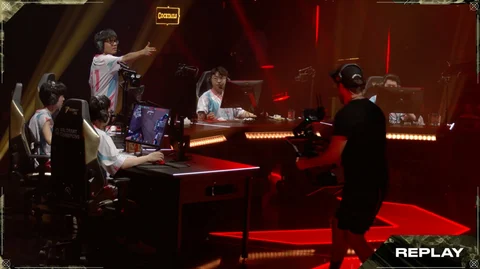 If you didn't know much about Chinese Valorant teams, this Champions 2023 will teach you a lot about them. There are two teams from China that managed to go through the playoffs and Bilibili Gaming is one of them.
Valorant Champions 2023: Bilibili Gaming Roster
Bilibili is an online video-sharing platform in China, but also the owner of BLG Valorant. Bilibili is a fairly new team and has been around in Valorant since February 20 2023 when they first signed their Valorant roster. Since then, a lot has changed and they recently participated in a VCT event, which caught our attention.
That event was the Chinese Qualifiers for Champions 2023 where they managed to get 2nd place and successfully qualify to this year's Champions. While being fairly recognized as underdogs, BLG has only lost to Fnatic which are the best team right now, and has won against teams like ZETA DIVISION & NRG whom they both kicked out of this prestigious event.
UPSET ALERT

Bilibili Gaming STUNS NRG and 2-0 in their international debut! #VALORANTChampions pic.twitter.com/MnvppIN3EQ

— VALORANT Champions Tour (@ValorantEsports) August 8, 2023
This is the BLG roster that is currently competing at Valorant Champions 2023:
| | | | |
| --- | --- | --- | --- |
| Name | Nickname | Role | Join Date |
| Zhong Jianfei | Biank | Player/IGL | 2023-04-11 |
| Wang Haozhe | whzy | Player | 2023-02-20 |
| Li Lewei | rin | Player | 2023-02-20 |
| Liu Yuxiang | Knight | Player | 2023-05-03 |
| yosemite | Lei Wang | Player | 2023-05-03 |
| Lu Zhi Nan | kai | Substitute | 2023-03-22 |
| Yu Jun | LostMe | Substitute | 2023-04-11 |
| Wang Linxiao | JeXeN | Head Coach | 2023-//-// |
| Gu Chao | paris | Assistant Coach | 2023-//-// |
Valorant Bilibili Gaming Achievements
As this team is super new, they don't have much to offer in terms of achievements so far, and their placement in this year's Champions will be their best one so far. They've previously played the FGC Valorant Invitational 2023: Act 2 which is an online Chinese invite-only tournament. This was the follow-up event for the China Qualifiers for Champions, and their 2nd place there earned them a spot at the qualifiers.
Two teams from each region will fight to become the 2023 World Champion of VALORANT.

The Playoff matchups are set and kickoff August 16! #VALORANTChampions pic.twitter.com/C91K3KqXGl

— VALORANT Champions Tour (@ValorantEsports) August 13, 2023
If you haven't been following much of Champions, BLG is currently in the Quarter Finals of the Playoff Stage at Champions and are guaranteed top-8 & a minimum of $50,000 in prize money. Check out Valorant Champions 2023: Playoff Seed & Expectations for more on this.

For more content:
This article contains affiliate links as indicated by the shopping cart icon. Please read the article carefully before clicking any links.