As the year is wrapping up, Steam Charts shared that Riot's tactical shooter was the most seen on the streaming platform in 2022.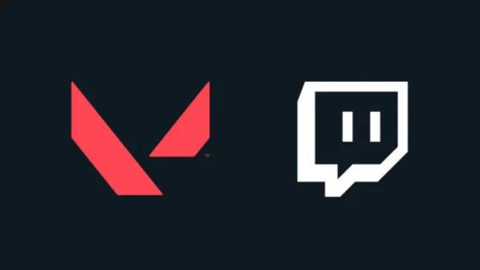 2022 was a fantastic year for Valorant fans, especially if you tuned in to the VCT events and international tournaments. After all, being named Best Esport at both The Game Awards and The Esports Awards is not something every community can brag about.
Naturally, with so many streamers, content creators, and live events being broadcast via Twitch, it's come as no surprise that, according to Stream Charts, Valorant was the most-watched shooter in 2022 on the platform.
Taking data from January 1 up to December 18, Valorant accrued an incredible 1.126 billion hours watched on Twitch, almost doubling its closest competitor, CS:GO, with 684 million hours watched. Rounding out the top five are Apex Legends with 640 million hours watched, Fortnite with 599 million, and Call of Duty: Warzone with 416 million.
What's interesting about the chart, which you can see below, is that both CS:GO and Fortnite had bigger peak viewership numbers than Valorant, speaking to the consistency of Riot's tactical shooter, which remained an evergreen game throughout the year on the platform.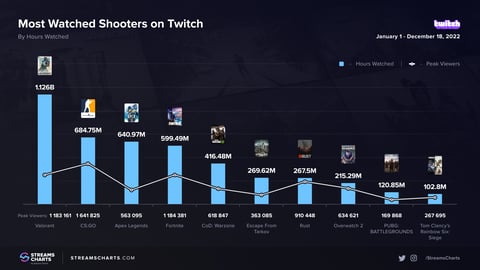 In terms of which content creators brought the most numbers to Valorant, it couldn't be any other than Sentinels' content creator Tarik. With over 69 million hours watched and a peak of 196k viewers, Tarik was simply the stream to watch during any VCT watch-parties.
Other notable Valorant creators include Shroud, who managed 26 million hours watched and a peak of 100k viewers. However, the king of FPS' didn't only just streamed Valorant, although a huge portion of his fanbase certainly enjoyed whenever he watched or played Riot's tactical shooter.
Here's hoping 2023 is even better!
For more content: