Want to score some ice-cold frags? The amazing Cryostasis collection seems just for you!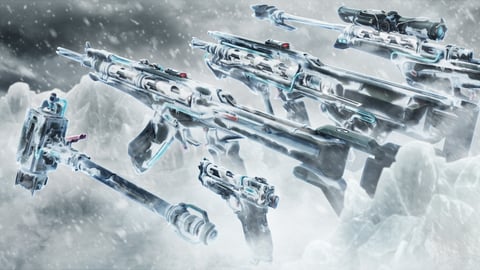 Everyone loves Valorant skins! Well, at least a few fans still do, with a huge part of the community criticizing their seemingly increasing prices by Riot Games.
With new bundles coming every few weeks, it's hard to know how to spend your precious Valorant Points (VP), and it's about to get even harder with the arrival of the Cryostasis collection.
As the name, and aesthetic suggests, the Cryostasis collection will feature a frosty look to them - just picture an intrepid and highly armed adventurer traveling the vastness of Antarctica and you'll get what we're talking about.
Enough chit-chat, let's talk about what you really care about, things like the release date, which weapons are getting skins, and how much you'll have to pay for them!
Cryostasis Valorant Bundle - Release Date & Skins
The Cryostasis collection will be released on December 14, it will replace the current featured collection in the in-game Valorant store, which is the Abyssal bundle.
These skins will stay in the featured section for a few weeks before leaving it for another, at that point, the only option to get your hands in one is to wait for them to show up on your daily rotation or the Night Market.

The weapons that will get skins are:
Classic
Operator
Vandal
Bulldog
Melee
Cryostasis Valorant Bundle - Cost
Thus far, we have no information regarding the cost of the collection. It's usually highly dependent on whether the skins will come with any sort of VFX like kill banners, reload animations, and more.
We do know that, according to certain leaks, the guns might have a unique animation that will see them get frozen as a match progresses.
It seems that as the game progresses, weapons will begin to freeze@valorantleaksEN | #VALORANT pic.twitter.com/85jCmQs87T

— Valorant Updates (@ValorantUpdated) December 5, 2022
As soon as we have more information, we'll update you accordingly.
For more content: