Find out how to get the perfect circle crosshair in Valorant with this crosshair code.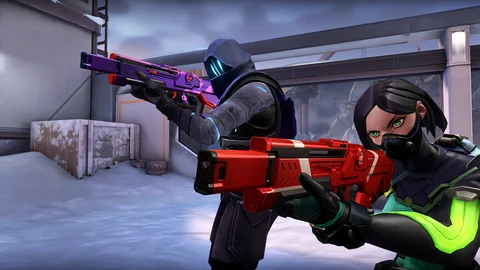 Valorant crosshairs are a hot topic within the community. From newer players to veterans trying to up their game, the perfect crosshair, as weird as it may sound, can be the difference between a clutch headshot that will make you rank up or whiffing entirely.
One of the most sought-after crosshair types in Valorant is a circle version. It's elegant, simple to track, and gives players reassurance that it'll make their aim progressively better.
So, want to know how to get a circle crosshair in Valorant? Say less, we got you covered.
Circle Crosshair Codes In Valorant - How To Get
If you don't know how to change your crosshair in Valorant, don't worry, we got a dedicated guide up on ValorFeed for you to check out!
With that out of the way, there are plenty of circle crosshairs in Valorant. They all vary in terms of color, opacity, and whether they're filled or not. That's how amazing the crosshair personalization tools are in Valorant!
With that in mind, these are the best circle crosshair Valorant codes in Valorant.
Cyan Circle Crosshair code: 0;P;c;5;h;0;f;0;0t;4;0l;1;0v;1;0g;1;0o;2;0a;1;0f;0;1t;0;1l;0;1o;0;1a;0;1f;0
Filled Circle Crosshair: 0;P;c;8;u;177059FF;h;0;d;1;b;1;z;3;f;0;0t;3;0l;1;0o;1;0a;1;0f;0;1t;1;1l;1;1v;1;1o;1;1a;1;1m;0;1f;0
Big Circle Crosshair: 0;P;c;5;o;0;d;1;z;6;0t;8;0l;1;0o;0;0a;1;0f;0;1b;0
How To Make Circle Crosshair in Valorant
If the options above are not to you liking, try coming out with a unique crosshair yourself! Follow these options to start tweaking with a potential cool circle crosshair in Valorant.
Inner Lines
Show Inner Lines: On
Opacity: 1
Length: 1
Thickness: 3
Offset: 1
And that's it! Have fun experimenting.

For more content: