LOUD, one of the two qualified teams for the VCT Americas Playoffs, continues to show its dominance over the region.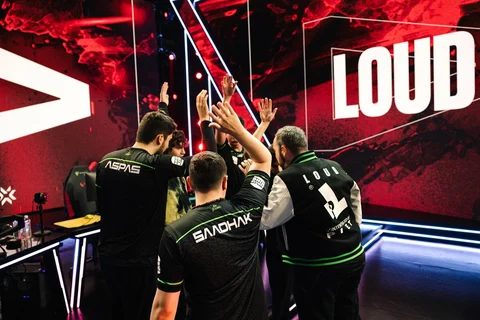 It's not easy being as consistently good as LOUD has been. Winning Champions to close out 2022 and just a couple rounds away from also securing LOCK//IN early in the year, the Brazilian org has yet to drop a game in the VCT Americas League.
Already qualified for the VCT Americas Playoffs, LOUD is still playing to secure one of the top 2 seeds, which will give them a bye for the first round of the double-elimination bracket. 100 Thieves sought to break their undefeated streak, but were unable to stop the Brazilian powerhouse.
100 Thieves In Trouble After Another VCT Americas Loss
100T desperately needed a win to keep themselves in the top 6 sweet spot that would see them qualify for the playoffs, however, they've now dropped to 7th place due to having a worse map score with a similar 3-4 record than Evil Geniuses.
Their Ascent play against LOUD hit them hard in the map differential, as they seem to barely hold their ground against much better opposition on all fronts, taking only five rounds, and losing 13-5.
Things were a lot different in Split with a complete comp swap from 100T, while LOUD kept a Jett in their roster compared to the previous map. Everything went down to OT, where LOUD proved to be too clutch against the North American side.
WHAT. IS. THIS. ACE.@loud_aspas | #VCTAmericas

https://t.co/Etrp5cZHTV pic.twitter.com/SKJLoDTxuY

— VALORANT Esports NA (@valesports_na) May 7, 2023
With these results, LOUD has all but secured a top 2 finish in the Americas League with a 7-0 record, with only FURIA Esports being able to dethrone them (currently holding a 4-2 record), however, they'd need to dominantly win their next three matches as well as having LOUD lose its final two.
As for 100 Thieves, they sit in 7th spot with a 3-4 records, playing for their qualification spot against FURIA and MiBR in their final two matches.

For more content: