When you're grinding to reach the top, sometimes you have to sacrifice playing the waifu gacha games. Someone didn't get the memo...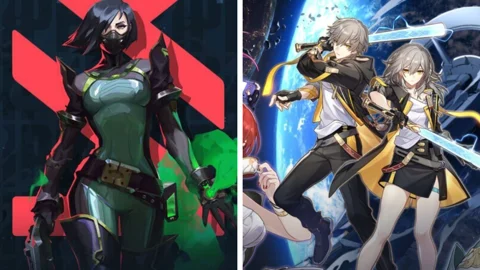 Breaks are good, even for pro players. While they have to sink thousands of hours if they aspire to go pro and reach the top of the Valorant competitive ladder, burning out in the process will end up being detrimental.
However, there's got to be a time and place for relaxation, and a VCT player from Ghost CommandoS really messed up, as they were too busy playing the latest miHoYo gacha waifu game, Honkai: Star Rail, to even install the Riot client to boot up Valorant.
Valorant Team Forfeits VCT Match As Player Grinds Honkai: Stair Rail
The incident occurred during the Valorant Challengers Hong Kong & Taiwan Split 2. Ghost CommandoS needed nothing short of a miracle to qualify for playoffs after losing the first five games of the split.
They were set to face S2 Esports, who were also in dire need of some wins. Sadly for GCS, one of their players didn't show up, as allegedly, they were too busy playing Honkai: Star Rail to even bother installing the VCT game client in the first place.
Just read about the funniest forfeit possibly in VCT history in VCL HKTW

The team in question (GCS) had to forfeit because one of their players was too busy playing honkai star rail to install the VCT client in time for their match pic.twitter.com/JmdCLZYM3J

— KZ Seulgi (@SeulgiVLR) May 4, 2023
If you're wondering why they needed to reinstall the VCT client is because it seems they use different versions throughout the season, trying to keep it as close as live servers, with the latest one including the updated Bind.
Ghost CommandoS would end up losing every single match in the split, ending it with a woeful 0-7 record. Meanwhile, S2 Esports would win the following match too, ending with a 3-4 record and squeaking into the playoffs last second.

For more content: