The crosshair you use in Valorant is really important for aiming right and clicking heads. With tons of options in the Valorant crosshair settings, how can you change your Valorant crosshair?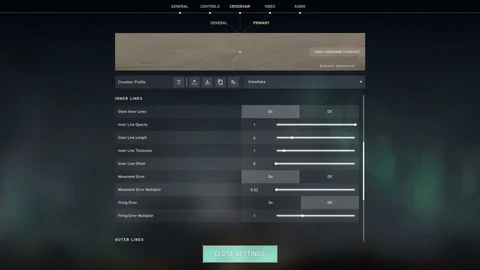 Having a good crosshair in Valorant is essential to have great aim. Riot Games has given us a good crosshair system with inner lines, outer lines, a center dot, and tons of other crosshair settings. But how do you exactly change and set them up? Worry not, as here we'll check out how to change your crosshair settings in Valorant!
How to Change Your Valorant Crosshair Settings
To change your crosshair in Valorant, you'll have to enter the game settings. You can do so by going into Valorant, clicking on the gear icon in the top right corner and selecting Settings. Then above in the middle, select the Crosshair tab. There are 2 sub-tabs in the crosshair settings: General and Primary.
The General settings are self-explainable, with the most important option being "Use Advanced Options". This will give you the freedom to change the crosshair within a sniper scope and when you aim with right-click.
The Primary settings are the most important for your Valorant crosshair. Here you'll set up the color of your crosshair, and add a custom color as of Patch 5.04! There's also the most important Valorant crosshair settings:
Inner Lines: normal lines which are usually made smaller to fit with the Outer Lines
Outer Lines: normal lines which are made with a bigger offset to circle the Inner Lines
Center Dot
Outlines: black lines around the Inner Lines, Outer Lines, and Center Dot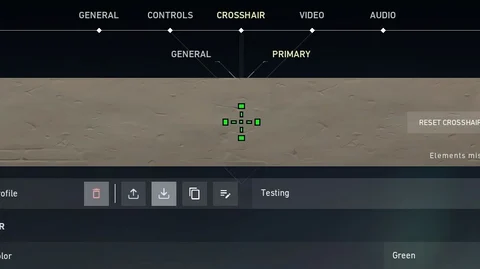 These are the options with which you'll set up your crosshair. You should maybe set it up like TenZ! But each of these sections also has 2-3 repeating options that you'll normally use like thickness and opacity. So here's what you need to know about these settings to change your crosshair:
Opacity: affects the crosshair section's line visibility
Thickness: determines how big and wide the crosshair section's lines will be
Length: sets up the distance of the crosshair's inner or outer lines
Movement Error: an option on how much the specific crosshair section budges while you move
Firing Error: an option on how much the specific crosshair section budges while you fire your weapon
There are other crosshair options too, but these are the most essential ones you'll ever need. Most of the time you'll want to keep the Movement and Firing error disabled. If you're looking to change your crosshair to a simple one, you'll want to only work with Inner or Outer lines with some Outlines. But what if you want to add a more complicated crosshair with a code?
How to Change Your Valorant Crosshair Using Crosshair Codes
To add a crosshair in Valorant with a code, first, you'll need a code. You can try this out with the Snowflake crosshair from the top:
0;P;h;0;d;1;z;3;a;0.7;0t;1;0l;4;0o;0;0a;1;0m;1;0f;0;0s;0.02;1t;3;1l;1;1o;2;1a;1;1f;0;1s;0.02
Copy the code, then go to your Valorant crosshair settings. At the Crosshair Profile option above, click on the button with an arrow pointing downwards (Import Profile Code) and paste in the code. Click on import and you're done! For a more in-depth guide on crosshair codes, you should check out how to import and export crosshairs in Valorant.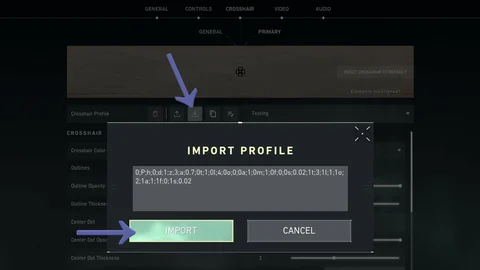 And that's how you can change your crosshair in Valorant! It may seem complicated, but once you understand all of these options you'll set up crosshairs unlike any other. So if you create a sick crosshair, make sure to send u your crosshair code on our Instagram!