After much anticipation, Valorant's Tournament mode has been officially named Premier. Here are all the details you need to know about.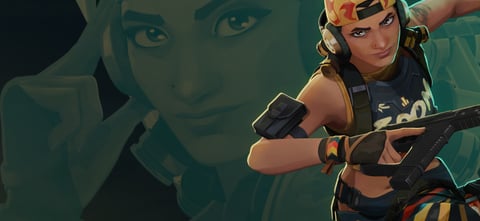 Months ago reliable Valorant insiders and leakers confirmed an in-game tournament mode was coming to the Riot Games tactical shooter, and after the devs themselves confirmed it, we finally got a more detailed look at Premier Mode.
Back in October 26, Jon Walker, designer on the Valorant Competitive team showcased features fans can expect when Premier Mode is officially available for all players. Being an important cog in their VCT machinery for 2023, Premier will allow Riot to seamlessly merge all players interested in a much more competitive experience than ranked offers.
So here's everything you can expect.
Valorant Premier Mode - Features & Release Date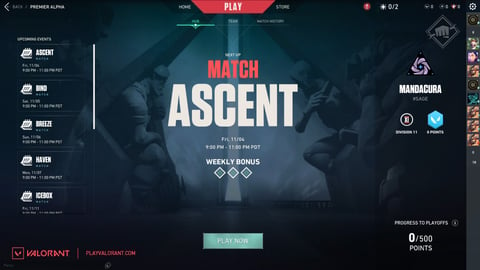 The Premier Mode will allow you to build a team, register it and compete in a series of scheduled matches against other pre-existing squads. Once you register your team, you'll be placed in a division in which you'll play against other teams of similar skill in weekly bouts. Dominate the opposition and you can become Division Champion at the end of a season.
Each season will last a few weeks although the exact duration is yet to be confirmed. So far, there's not a release date in mind for Premier Mode. Having said that, there is a Global Open Beta to try out!
Valorant Premier Global Open Beta
After an initial trial period set only in Brazil, the team is finally ready to move on with more extensive beta testing, this time involving all regions!
While there will be tournaments at all skill levels, the interesting part occurs at the upper threshold of competition, with seamless integration from Premier Mode with the Valorant esports ecosystem.
How? Well, as Leo Faria, Head of Valorant Esports mentions, the path to pro will move away from Open Qualifiers and focus on Premier Mode. That's right, you will be able to make it from Premier Mode to, potentially, the International Leagues and even Valorant Champions.
Valorant Premier Mode Global Open Beta - Release Date
After much anticipation, Riot Games finally revealed that Premier Mode will have it's Global Open Beta launch on April 25, when Episode 6 Act 3 starts!
Get ready for day one with a run through the basics.

Premier Global Open Beta launches April 25. pic.twitter.com/Tttf7wcpDB

— VALORANT (@PlayVALORANT) April 17, 2023
More information regarding the full launch, which is schedule to happen sometime after Valorant Champions 2023, will be revealed in July so stay tuned!

For more content: