NRG, who recently picked up the former OpTic Gaming core debuted with dominance at LOCK//IN in Sao Paulo.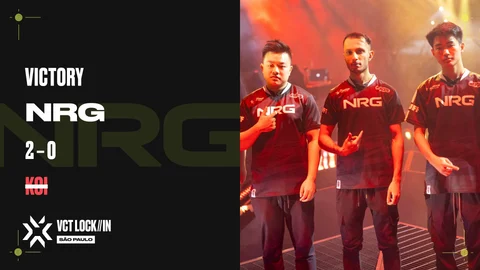 VCT LOCK//IN started with a bang for the North America region after NRG completed a sweep against KOI Esports, knocking the Europeans out of the tournament.
That's right, in case you weren't aware, despite LOCK//IN featuring all 30 franchised teams plus two invited Chinese organizations, teams have all but one chance to make an impression, as the event is a grueling single-elimination tournament. Some World Cup knockout stage vibes right there.
In that sense, losing early feels soul-crushing, especially for KOI Esports, who are the first team eliminated from the event which just kicked off. However, looking at the quality of a roster NRG has put together, which includes the core of former NA powerhouse OpTic Gaming plus Ardis "Ardiis" Svarenieks, it was clear from the start KOI drew the short end of the stick in terms of bracket luck.
It was that synergy and understanding of compositions and game sense at a high level that blew KOI out of the water, despite Nikita "Trexx" Cherednichenko being the server's top fragger with 46 kills, 10 more than NRG's best performer in this sense, Austin "Crashies" Roberts.
That level-headed approach and experience playing on big LAN stages allowed NRG to let KOI suffer the nefarious 9-3 curse, by snatching away what seemed a sure win for the Europeans on Icebox.
THE 9-3 CURSE IS REAL !!@NRGgg take map 1 in the first match of #VCTLOCKIN! pic.twitter.com/0IidSfHZbP

— VALORANT Champions Tour NA (@valesports_na) February 13, 2023
KOI seemed poised to return the favor to NRG, winning four straight rounds to start the second half of map two, Haven, after going down 8-4 on the first one. Sadly, NRG regrouped and showed better fundamentals on an almost mirror comp matchup (both teams rocked Sova, Killjoy, Sage, and Vipe, with NRG opting for KAY/O and KOI going for a Duelist, Jett), securing the win and advancing to the next round of the event.

Overall, it wasn't a totally disappointing showing by KOI Esports, but they'll be kicking themselves for not closing out Icebox and continuing to ride the momentum on Haven. As for NRG, they'll be ready to face another EU org, Giants, in the Round of 16.
For more content: