The 100T CEO has put his trust in 19-year-old Cryocells after fans scrutinized the owner for not trying to sign the former OpTic Gaming superstar.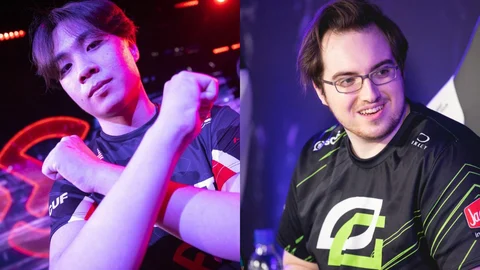 As team continue to bolster their ranks ahead of VCT 2023, many are wondering where will former OpTic Gaming star Jaccob "Yay" Whiteaker will end up, with rumors suggesting he'll join Cloud9.
Another potentially suitable destination would've been 100 Thieves, one of the biggest organizations in Valorant due to its popularity and overall infrastructure. However, they opted to sign another exciting prospect, former XSET player Matthew "Cryocells" Panganiban.
Filling essentially the same role as Yay, playing mostly duelists and Chamber, means that 100T is all but out of the race to sign El Diablo, with many wondering if they simply couldn't afford his signature. Well, as it turns out, CEO Matthew "Nadeshot" Haag explained that, at the current moment, Cryo is simply a "better fit" for 100 Thieves.
At the end of the day, I think right now everybody would agree Yay is probably the best player in the world (...) anybody would be silly to not consider Yay to join their team. It wasn't a matter of expense, it wasn't a matter of common ground between us, we just think that Cryo, at this moment in time, for the rest of the team, is the best fit

Nadeshot then added that Yay is probably the most sought-after free agent in Valorant, comparing his prowess to NBA legend Michael Jordan: "This guy has dominated Valorant for the last two years."
Nadeshot from 100 Thieves stated that they preferred Cryo over yay in the roster discussions

While Nade gave props to Yay for his extraordinary play, and how well he's preformed, he stated that Cryo was a better fit for the roster at a younger age | #VALORANT pic.twitter.com/CFfbS2CNqw

— ValorIntel (@ValorINTEL) September 30, 2022
He finalized by saying that, with 100 Thieves' support, Cryocells could eventually become the next Yay in the not-so-distant future."
We have a lot of young players in our team, Cryo is 19 himself, just keeping sort of at the same level, is probably the best step forward for us
Will the long-term investment pay off for 100 Thieves or will they regret not trying to sign Yay when they had the chance? Only time will tell.
For more content: